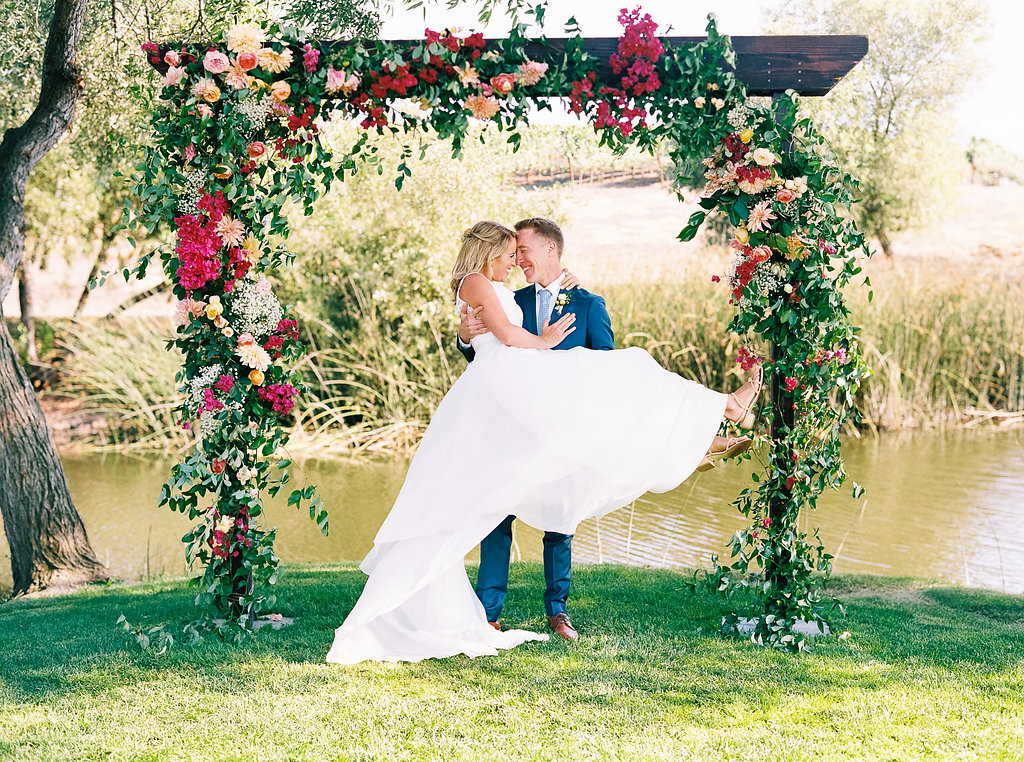 The Central Coast is the perfect place for those classic and sunny California wedding day dreams! While the weather was perfect at Greengate Ranch & Vineyard, this couple truly brought the sunshine. Their smiles, and love for one another mixed together with all things beautiful designed by Vanessa Noel Events made for one heck of a celebration! This bride was so happy for the community of vendors that wrapped up all her wedding day dreams into the most perfect day. Jen Rodriguez captured everything from the wedding day preparations to the wild dance party at the end of the night.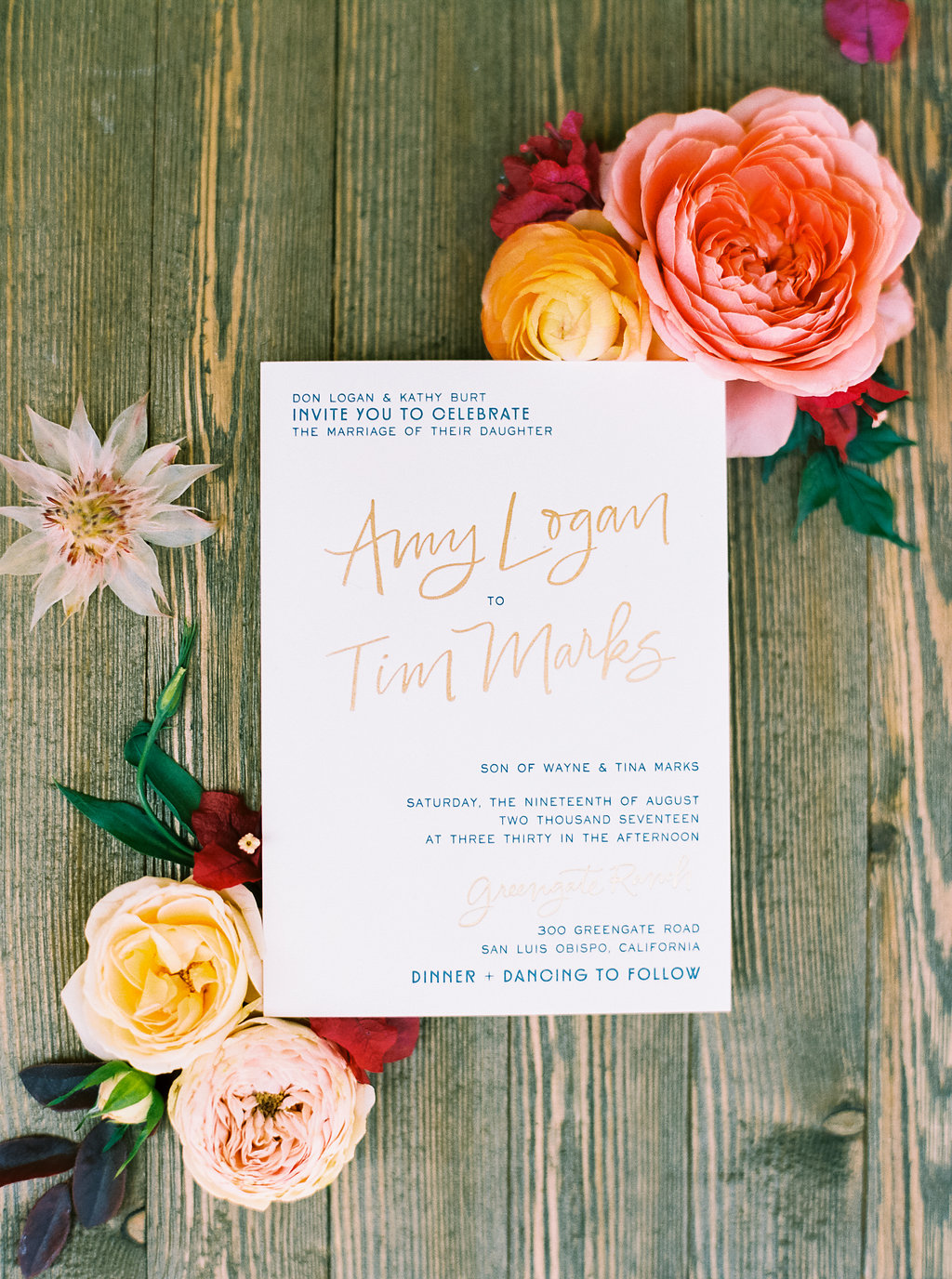 Girl Meets Boy!
Tim and I met the first day of college at Chapman University in our freshman foundation course 10 years ago (kind of like homeroom but in college). We were hallmates, good friends, and part of the same friend group throughout our freshman year. At the end of our freshmen year, Tim asked me to his Fraternity formal event and the rest is history! We didn't start officially dating until our Sophomore year and we're both really thankful that we had a year of solid friendship before we realized there was something more between us. Tim planned the most beautiful surprise proposal at our family vineyard in the Santa Ynez Valley. Immediately after popping the question, he surprised me with an engagement party with all of our closest family and friends that flew in from around the country to celebrate with us. It was the most amazing day!
Wedding Planning Inspiration

We both love living in beautiful Southern California and knew we wanted a sunny summer wedding filled with bright and beautiful colors, while still maintaining the fresh and airy coastal feel we both love. The colors and overall feel of the wedding were also very much inspired by the natural beauty of the vineyard setting at Greengate Ranch.
Color Palette

We tried to keep everything light and airy with pops of color. We had various hues of blue, lots of greenery, subtle pinks, white, and pops of gold metal mixed throughout the décor.
Memorable Moments

One of our favorite parts of the night was when we snuck off to take sunset photos in the vineyard. It was a time for just the two of us to soak up the moment and take a few deep breaths before the reception began. Everything on your wedding day moves so quickly so it was nice to have a few moments just the two of us to reconnect and walk through the vineyards. Also - saying our vows, in front of all of those we love most in this world, was a moment that neither of us will ever forget. There's just no way to put into words how amazing it is to say "I do" and marry your best friend in front of everyone that's been there for you throughout your life. And dancing together at the very end of the night to "Yours" by Russel Dickerson in the barn, even though everyone was watching us, it felt like we were the only two people in the world in that moment.
The Details

Our wedding day was filled with small details that our vendors put so much love and energy into. Everything from our custom drink napkins with country song quotes, custom stir sticks, seating chart with countries we've visited together, guest book table with our photos, fun photo booth setup with a Justin Bieber cutout, twinkle lights above the bar, and so much more. We planned a choreographed dance with our bridal party and we'll never forget how much fun it was to rehearse and perform it with all of our closest friends.
Raddest Wedding Vendors

I could honestly go on and on about how amazing each and every vendor was. Everything came together so beautifully and we truly have our incredible "dream team" of vendors to thank for that. It really does take a village and the supportive community that the Central Coast has with it's vendors was what made getting married at Greengate that much more incredible. I loved the way our vendors collaborated and worked together to create the best possible experience for our guests. They not only worked together seamlessly, but they enjoyed every minute of it and their passion for their work was so apparent in the final result. To see all of their unique & individual work come together for our big day - it was so much fun to be a part of. Our wedding planner, Vanessa Noel Events, knocked it out of the park designing and bringing to life our dream wedding. And I'll never forget the flower arch created by Katie Noonan that left me utterly speechless. And don't even get me started on the food spread from Field to Table Events and the endless beautiful desserts from Paper Cake Events. To top it all off, we had the best photo/video team with Jen Rodriguez and Iron & Fern. We are so grateful for the dream team that put everything together!
Advice for Newbie Brides

Our best advice or tip to give couples planning their weddings is to have some fun with it! It really is such an exciting time and it's great just to soak it all in even when it feels overwhelming. We would make day trips out of our meetings with vendors and make it an excuse to get our family all together to go wine tasting before or spend a day at the beach during our "wedding planning" weekends. I'd also recommend picking vendors that not only do beautiful work, but are also just the kind of people you'd truly want to be friends with! It was so fun to not only connect with vendors over our shared love for design and beautiful things, but also because they made the process feel so much easier and stress-free. Many of our meetings just like felt like I was hanging with a good friend and their enthusiasm and attention to detail made things much easier on my end. I think that picking vendors can be a bit overwhelming because there is so many great professionals out there, but once you dig a bit deeper and see who you connect with best, I think the decision becomes pretty clear and it makes it that much more FUN!