The Casitas Estate overlooks oak covered mountains surrounded by a touch of vineyard. This wedding venue offers 4 little houses, or casitas, to house family and bridal party. With such a secluded mountain top view guests are treated to a private slice of Arroyo Grande. Kristen & Shaun's whimsical wedding is full of sun-drenched beauty and bold natural colors. Central Coast Wedding Photographer Jen Rodriguez captured the details and moments with joy and wonder. Eden Florals brought to life each table arrangement with lovely arrangements which complimented the hillside backdrop of this couples love story. The rest of the story comes from the beautiful bride.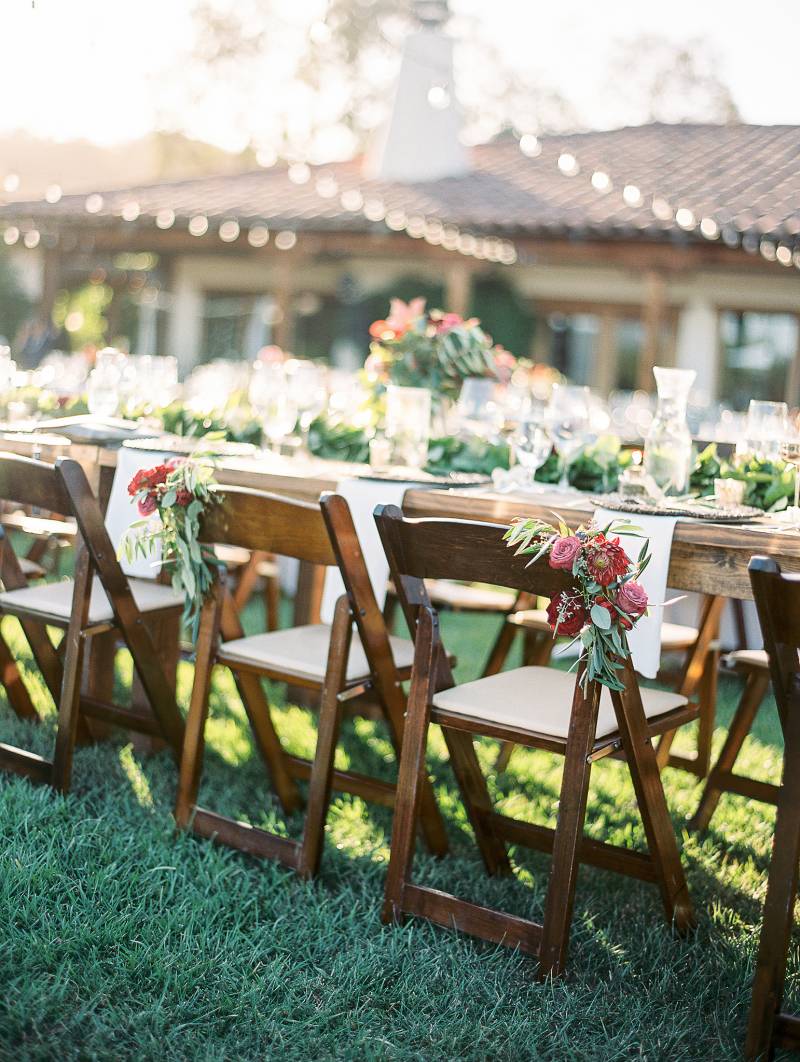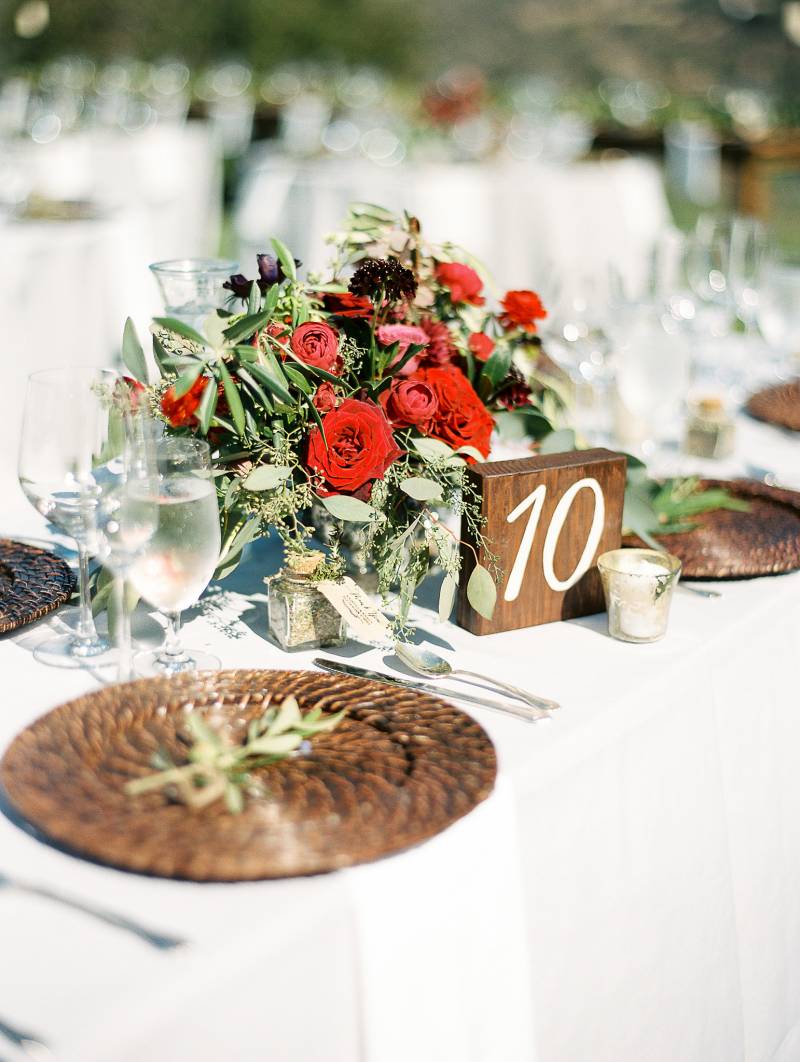 GIRL MEETS BOY!
Shaun and I both lived in Orange County and met through a mutual friend one afternoon at a beach bar in Newport Beach. I spotted him across the bar talking to a guy I knew, and obviously thinking he was cute, had my friend introduce us. We chatted for a few minutes and exchanged numbers, and I remember being so excited to hear from him later that day. He took me on our first date the following week for a Taco Tuesday, and the rest, as they say, is history! That was in 2011. Over the years, Shaun and I took trips together and always loved our visits to the Central Coast. Having attended Cal Poly in San Luis Obispo, I've loved the area for years and enjoyed sharing it with Shaun. One weekend in 2014, Shaun planned a trip for us up to Cambria and made me the happiest girl in the world when he proposed on Moonstone Beach. We immediately called our families and best friends to share the news!
COLOR PALETTE
For our colors, I was especially drawn to the rich, vibrant hues of deep cranberry, burgundy, and dark purple, with pops of white. Our florist, Rachael Manuele, was such a dream. She took my ideas and created the most beautiful flower arrangements I've ever seen - way above and beyond what I had hoped for. I wanted lots of wild, natural greenery as well - and I especially loved the garland we had on the head table. For the bridal party, I chose to go with deeper fall colors as well, wanting the bouquets to really 'pop' on the girls. The boys wore medium gray suits and the girls wore long navy dresses. We kept the table settings simple with light grey linens, white napkins, and dark brown rattan chargers. I love how it all came together and really allowed the flowers to be the star.
MEMORABLE MOMENTS
I also loved our wedding ceremony. Shaun and I spent a lot of time putting together our favorite readings and passages, and it was very important to us to have meaningful, heartfelt, and personal vows that really captured our values and promises to each other. Saying our vows to one another was one of the most special memories of the day. Taking the time to do sunset photos was another favorite memory. It was such a nice escape from the craziness to have a few minutes to ourselves (with our awesome photographers) to relax, chat about the day, and really take it all in.
WEDDING PLANNING INSPIRATION
When the time came to start planning our wedding, Shaun and I knew that the Central Coast would be the perfect place - it has always been one of our favorite vacation spots, plus it was where we got engaged! We were looking for a venue that offered pretty outdoor spaces, that was casual yet elegant. A vineyard would be the perfect touch since we both love the wine country (and I actually work in the wine business). When we stumbled upon The Casitas Estate in Arroyo Grande, we knew we had found a truly special place. It was warm, inviting, charming, casual, elegant, and amazingly beautiful - everything we could have hoped for! Plus, it had a vineyard! It was totally unique from any other venue we had seen in the area and we didn't want to leave (I think I told the owners we wanted to move in!). The Casitas Estate further inspired our vision of creating a casual/elegant wedding, and our team of super talented vendors made our vision a reality.
THE DETAILS
Some of my favorite details...I loved the little rustic touches that we added to our décor. From the handmade wooden signs for the Welcome Board, Bar Sign and Dinner Menu (made by my mom and I), to the painted wooden table numbers, wine barrel cocktail tables, lanterns, and rustic wood tables. I think they perfectly captured our style and it was fun to have made some pieces ourselves! The flowers were also a major favorite detail of the day. Looking back at photos of them, I still can't believe how beautiful the arrangements turned out and how unique and special they were for our wedding day. Lastly, I also loved that I gave the bridesmaids moonstone necklaces to wear, as a tribute to where Shaun and I got engaged (Moonstone Beach).
RADDEST WEDDING VENDORS
Omg, we had the best wedding vendors ever! I honestly can't imagine having a better team put together our wedding day. From the beyond gorgeous flowers from Rachael Manuele (Eden Floral), our incredibly talented and sweet wedding coordinator Janet Tacy (Sandcastle Celebrations) who went above and beyond making our whole vision come together so smoothly, the wonderful owners of Casitas Estate (Pat and Tony) who were so easy to work with and made us feel like family, our dessert table display from Paper Cake Events that was as tasty as it was stunning, my hair and makeup stylist Jess Wilcox who was so down to earth and made me feel my most beautiful, and last but not least, our outrageous photographer Jen Rodriguez who captured our wedding day and all of our favorite moments and details so perfectly. Jen made us feel so comfortable and we had such a blast working with her for our engagement session as well. All of our vendors were so organized and fun to work with - we definitely hit the jackpot with our super talented team.
ADVICE FOR NEWBIE BRIDES
My advice for other brides is to invest in vendors you really like and trust - then you can relax and enjoy your wedding day, knowing that everything will come together just right. I'm so happy that we followed our instincts with our vendors and ended up with a great group of people that really cared about our day and making it what we wanted it to be. Some of our vendors we still keep in touch with and are now people we consider our friends, which is pretty amazing! I would also recommend doing a First Look. The moment was really special and private for Shaun and I, and it also allowed us to take a lot of photos before our wedding (which allowed us to be more present at the wedding!). You also don't want to miss out on sunset photos - yes it takes you away from the wedding for a little while, but the break is nice and the photos really do capture the best lighting. Lastly, enjoy the day and don't worry about the details or the timeline. It goes by so quickly, so try to relax and soak it all in.