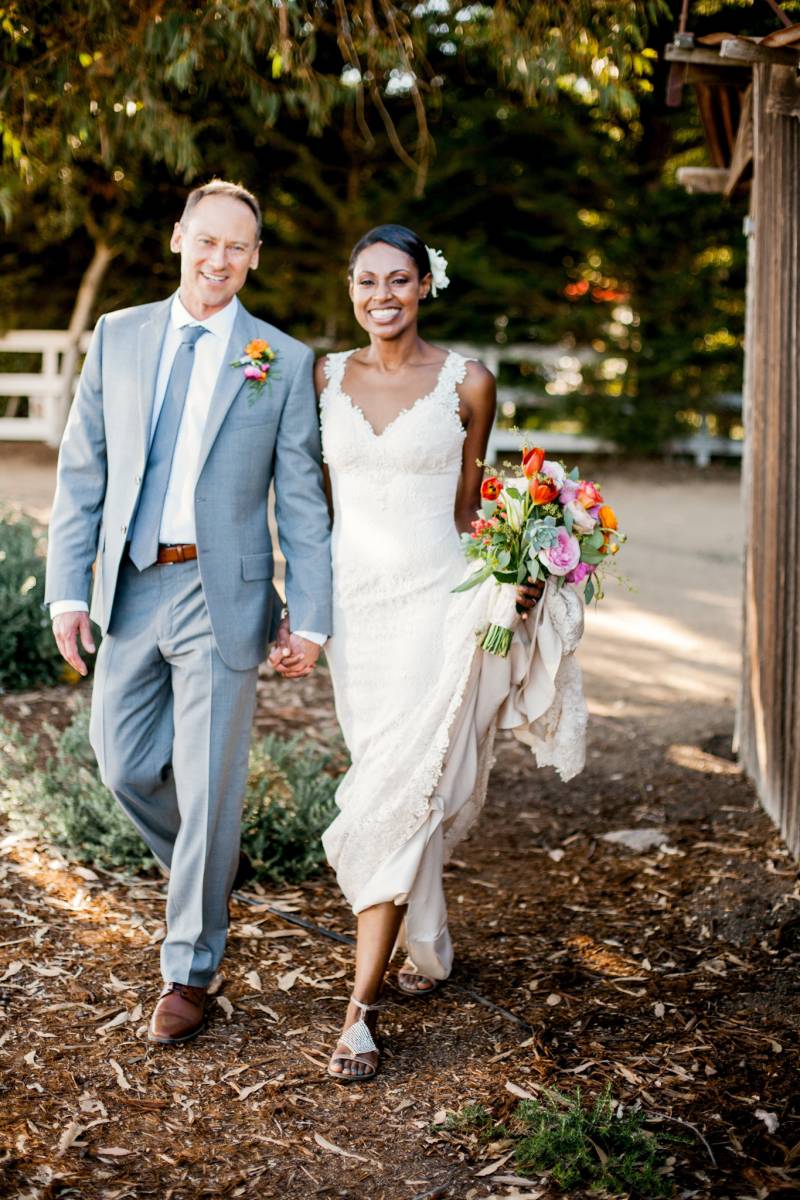 What better way to bring two families together than amidst the beautiful Flying Caballos Ranch nestled in the golden hills of Edna Valley. This intimate San Luis Obispo Wedding Venue, just a few miles away from where this couple went on their first of many dates together, allowed several family members to come together, stay on-site, and to celebrate the union of Rudy and Jackie on a sunny Central Coast day. With a talented team of Wedding Professionals who strive to go above and beyond in every endeavor, Rudy and Jackie feel confident that their special day was just as magical as they had ever imagined it to be. Thanks to the talent of Michelle Warren, the couple can relive every enchanting moment of their wedding day through their beautifully captured photos.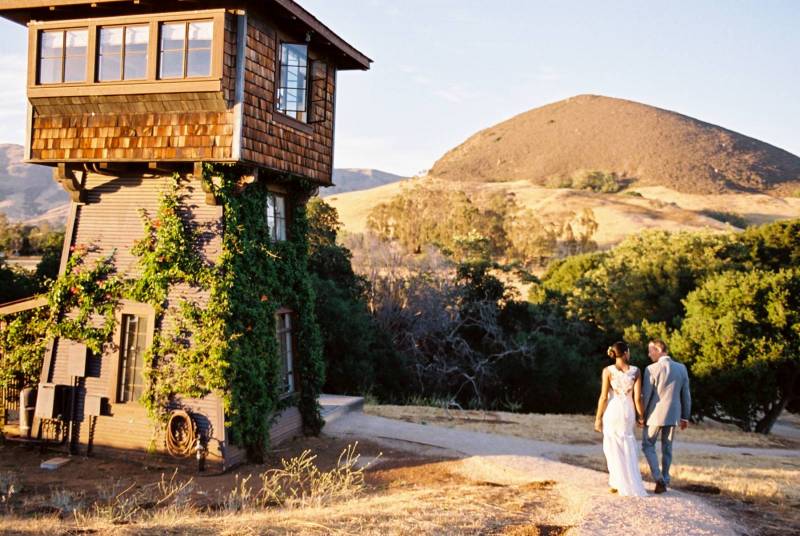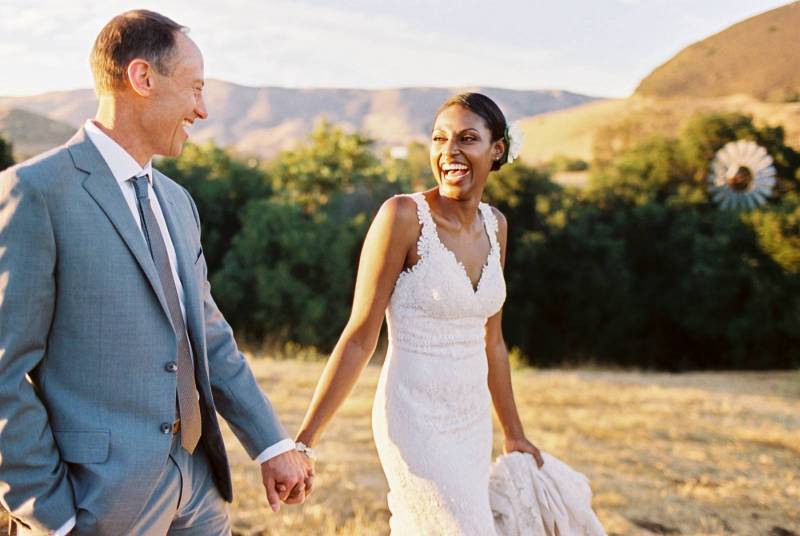 BOY MEETS GIRL!
Rudy's sister and I have been friends for over ten years, he and I had only met once before but couldn't pick each other out of a line up. Fast forward years and years later and unbeknownst to me, Rudy's brother-in-law is playing match maker for two working, single parents whose hearts were very guarded and protected. Rudy was not ready to date at the time but months later he asked his sister for my number. We met for dinner at Novo and connected instantly. We learned that we share so much in common like our faith, values, kids, Africa, and yet our differences are ones we love and celebrate. We dated very slowly for 3 years. It was, however, our trip to Uganda that solidified our relationship. Shortly thereafter we started talking more seriously of spending the rest of our lives together.
It was on an unexpected afternoon in February, when we took our favorite beach walk in Pismo. He talked about setting some time in the future to look at rings, apparently to throw me off. I continued walking and turned back to see him on one knee. I initially thought he was joking around and immediately said "You can't joke like that...you don't even have a ring!" He struggled to pull the ring out of his bended knee pocket and laughingly replied, "I have a ring". As he placed his grandmother's ring on my finger he asked if I would do him the honor of making him the happiest man in the world. I of course responded, "Of course!".
THE DETAILS
We were very excited that our children made up our wedding party and stood by our side for the ceremony. Rudy's 3 kids locked arms with him to walk him down to Sleeping at Last's version of "500 Miles" and I held hands with my two boys as they walked me down the aisle to the traditional Canon in D Acoustic guitar version.
A surprise detail for my groom was a video montage I put together and played at the conclusion of the evening. It included our baby pics, families, kids, dates & travels together, as well as honoring those who had passed but wished were there. The video ended with the recording of Rudy's very first voicemail message he left me asking me out. The response from everyone was PRICELESS! Thanks to our DJ, Manuel Barba for helping me with making that presentation happen that night.
WEDDING PLANNING INSPIRATION
Family. Not only because we were going to be blending our families but we recently had several members pass away and we were really looking forward to a big family reunion that revolved around a happy & celebratory time. We were fortunate enough to book our venue at Flying Caballos in our gorgeous town of San Luis Obispo. This beautiful outdoor ranch setting, over looking the golden rolling hills of Edna Valley, made the theme of our wedding easy. It also helped to bring many family members together at the onsite venue who stayed in the 5-bedroom farmhouse, 2-bedroom guesthouse, cozy cottage studio, and water tower suite. These historic homes created a family bonding and relaxing atmosphere days before and after the wedding.
MEMORABLE MOMENTS
There are too many to narrow down to a few but the following really stand out the most. Our guests were asked to be "present". We requested that everyone put their phones and cameras away during the ceremony so they could all be a part and share this time with us without distractions. We trusted Michelle, our photographer, to capture the special moments of the ceremony and she did. Rudy and I wrote letters to each other and read them as part of our vows. They were open, honest, funny, and loving. This meant so much to us as well as all who attended. We were later told how much was learned about each other from our letters, especially from those who only knew one of us. Even months after, we still get messages from our guests who said they felt like family who was invited in to be a part of such a intimate ceremony.
Another memorable moment was serving our guests ice cream for dessert instead of traditional cake slices. So many were surprised to get in a line only to see the us scooping & serving in our wedding attire with aprons. This allowed us the opportunity to personally greet and thank all who came to share our day with us.
RADDEST WEDDING VENDORS
We were very fortunate enough to be thoroughly impressed with the raddest vendors around!
Our caterers Flora & Fauna, are creme de la creme! All of the food was flavorful, colorful, local, seasonal, and presented so nicely. Their staff was efficient and helpful and so easy to work with. They take pride in their art and it shows! Wedding Photographer Michelle Warren came highly recommended. I was sold the moment I saw her amazing work! She captured the day beautifully with time, lighting, and a BIG family to juggle. I love that our photos immediately take us back! DJ Manuel Barba is LOVES music as much if not more than I do! He spun and played music that pulled at people's hearts, moved them, and made them dance. I loved seeing everyone out on the dance floor having a blast! Saying that Dustin Ensign of Celluloid Dream is good at what he does is an understatement. The video he created for us is magical. Sarah Hames was our "Day of Wedding Coordinator" from our venue at Flying Caballos. She was a pleasure to work with. She was extremely professional, helpful, accommodating, communicative and an overall pleasure to work with. I feel so fortunate to have found my makeup artist Shannon Dewitt. She is sweet, knowledgeable, artistic and also listened to what I desired to look and feel like on my special day. Renee Swan from Heavenly Hairstyles in Santa Maria has been doing my hair for a while. She went above and beyond her call of duty on my wedding day. She blocked out her ENTIRE day for me and ended up right by my side for any and all touch ups needed. Helen Zanoli my florist said, "show me what you want, I will make it happen". I found ideas I liked but was also able to explain the colors I really wanted to stand out in all the arrangements of the florals. She did a great job capturing my color scheme for the bouquets, boutonnieres, corsages, table settings, as well as part of the decor. Mignon Jones is probably the most creative person I know. Her mind's eye is beautiful and her sense of style is coveted by many. I had the pleasure of having her as my wedding coordinator. Her fingerprints are all over the success of our wedding day! Mignon has an amazing talent and she is a very dear friend.