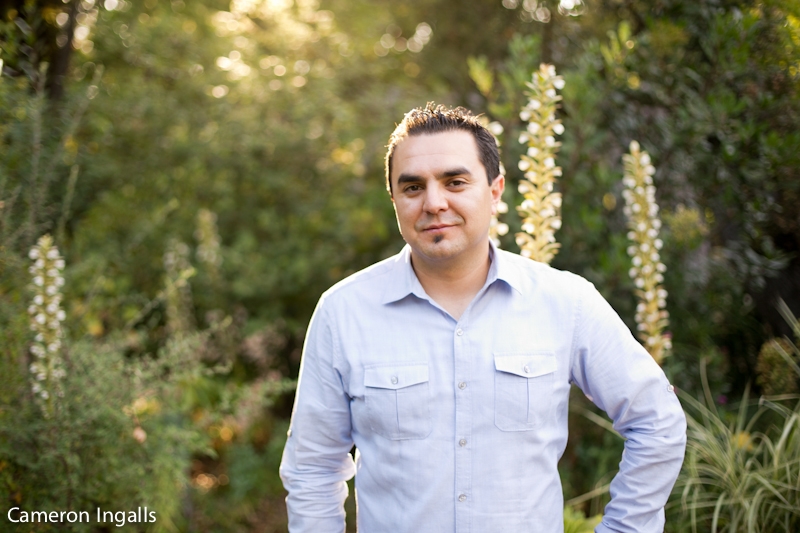 DJ | ARTIST INTERVIEW ///
Central Coast Wedding DJ Manuel Barba is the man behind the music! Manuel comes from a service background working with families and children in need. It makes sense that he has a strong foundation of service as for what he does musically on a couple's wedding day. He has been DJ-ing night club style for years around San Luis Obispo and you can find him at local restaurants and bars during the week playing amazing tunes. If you're looking for someone who can play a wide variety of music, keep the dance floor hoping, and have an amazing attitude while doing it; Manuel is your man!
How did you get started in doing what you do? I've been a an avid collector of vinyl records for the last 15 years, amassing a huge multi genre collection ranging from Jazz to funk/soul, Hip and international. Having grown up in a family where music is important, I have always made music an integral part of my life. My passion for music inspires me to share with my community and for many years I was host of the Night Train radio show on public radio KCBX, as well as a concert promotor, promoting an eclectic range of live shows in San Luis Obispo. Over the last 5 years, in addition to being a club DJ, I have committed my craft to working with Brides and Grooms to create a lush and tailored musical landscape for their weddings.
Do you consider what you do as an art form? (if so... explain) My craft of DJing and tailoring my work to meet the specific tastes of my client's is something I hold very dear. DJing for me is a delicate balance of style and range, and as a result I absolutely consider it an art. As with any creative outlet,DJing requires a tremendous amount of focus, flexibility and understanding of what makes people happy in that moment. My mission statement when it comes to DJing is simple, I play to please my audience and clients, not myself. What I've learned in my 10 years of DJ experience is that if the audience is happy...so am I.
Who or what continues to inspires you? My undying passion for music continues to push me to explore new and emerging artists, styles and genres, while making every attempt to see as many live shows as possible. The complexity and depth of music worldwide is what inspires to seek out and explore new things. As with many aspects of this world, the more you push yourself to seek, the more you'll find. Additionally, with respect to my craft as a DJ, dancing, happy people continues to be my greatest motivator.
What makes your business unique? Having been mostly word of mouth for the last 5 years, I have adopted a philosophy of developing close and collaborative relationships with the Brides and Grooms I serve. This relationship and dedication to ensuring all details of one's wedding are seen through with the utmost integrity and consideration. My hands on approach and commitment to making sure that what I do is tailored to your specific taste, helps to ensure that the soundtrack created for your most important day, reflects who you are as a couple. Additionally, as a result of my passion for vinyl records, my DJ style is to switch seamlessly between vinyl records and digital music on my laptop. With an arsenal of about 100,000 songs in digital format and about 2,000 vinyl records, there's no short supply of warm, quality music to meet every taste.
How would you describe your ideal couple? Every couple is unique, just as every person. My ideal client is a couple who wants to collaborate and share ideas about music and what will make their wedding unique to them. I don't believe in cookie cutter wedding playlists and am committed to working closely with those that procure my services to ensure they get what they ask for. So in short, my ideal client, is one that helps me see their wedding through their eyes. What's your personal business philosophy? Money matters not. I'm not in this business for the money and my philosophy has always been, if I'm not a good fit, than I will let my client's know. More important than a pay check is my ability to provide a successful wedding experience for those that entrust me with this honor.
Favorite part of a wedding? As a DJ, I have to admit that making the dance floor rumble is when my juices flow. I love looking out on the dance floor to see the Bride, Groom and their loved ones dancing as if time doesn't matter. I have been fortunate enough to experience this moment of euphoria often in my life and every time it feels the same way.
Why do you... do what you do? Weddings is a perfect way for me to 'marry' my passions for music, art, DJing and making people smile. That's what drives me continuously. What question do you always ask the Bride & Groom?
If you're wedding was a desert what flavor would it be? seems to be one I ask a lot.. Off The Wall, CrAzY, FUN... Questions First music album you ever bought? Michael Jackson..."Off The Wall"...Did I just age myself?
Favorite movie or documentary? Amelie...
Song that makes you want to dance like nobody's watching? Seriously...I'm embarrassed to say this but the Scissor Sisters "Don't Feel Like Dancing"...don't judge me until you have heard it :)
How do you normally begin your day? Coffee, paper, then get the kids off and running to school....with music playing the whole time...
What do you enjoy doing on your day off? Playing with my beautiful sons, listening to music and relaxing from the long week...
Do you collect anything? Vinyl Records...lots and lots of them...I need more space...
Tell us about your first job? Cleaning out the gross, greasy oil of a fried chicken place...you asked!
What would you say is your greatest accomplishment? Raising my two sons is what I'm most proud. Second is my long career as a marriage and family therapist/social worker, working with the most severely at risk and in need youth and families in my community . This has been my first passion for the last 10 years.
How do you sign off on emails? Hope all is well.. hope this finds you well...or thank you...
If you moved to a foreign country, which one & why? I wouldn't, I love my home in San Luis Obispo California way too much...
If you were an animal, what would you be? A hawk...
If you were in a band, what instrument would you play? Trombone
Ok, tell us your Nickname(s)? Rasco...it goes back lots of years...
Tell us one thing few people know about you? I cry at movies like "Wall-e" and "Up".
Wedding trend that your loving right now? Rustic outdoor weddings have been the theme lately and the emphasis on nature. This I've enjoyed...
Wedding trend that will hopefully be out next year? Cha Cha Slide....
Read the book or watch the movie? Cinema Paradiso
Stranded on a desert island... list three things you'd bring with you? My sons (although seems unfair to them), my Beatles records and of course my beautiful partner.
Tell us your favorite song or band (new or old)... right now? Beatles "Across the Universe", I never seem to tire of this one.
Favorite quote? "Try not... do, or do not" -Yoda
What chore do you absolutely HATE doing? I actually like chores...cleaning, organizing, laundry, bathrooms, kitchen...I go it all!
What sound do you love? The sound of the breeze in the trees of my backyard.
If and when it happens... what do you want people to remember you bye? That I was kind and made a difference.
What do you want to be when you grow up? a DJ...
What would you title the autobiography of your life? mmmm...I'mma have to think about this one...
What was the last Movie, TV show or Book that made you cry? Up...or was it ET?
What's the hardest thing you've ever had to do? Be a father!
Whats the greatest gife you've ever given or received? My sons...there is nothing greater.
What do you miss most about being a kid? The whole thing... If I could just do it again...
What's in the top 5 of your bucket list? Visit Machu Picchu
Tell us something you learned last week? Patience...every week I'm forced to relearn it :)
At What age did you really become an adult? I'm 36 now...hopeful in a few years...
Where do you see yourself (or business) in the near future? I only wish for it to be as happy and productive as it is now...with everyone around me healthy and filled with life.
Anything else you want to say that we didn't ask? Nope...thank you for the opportunity to share a piece of myself :)