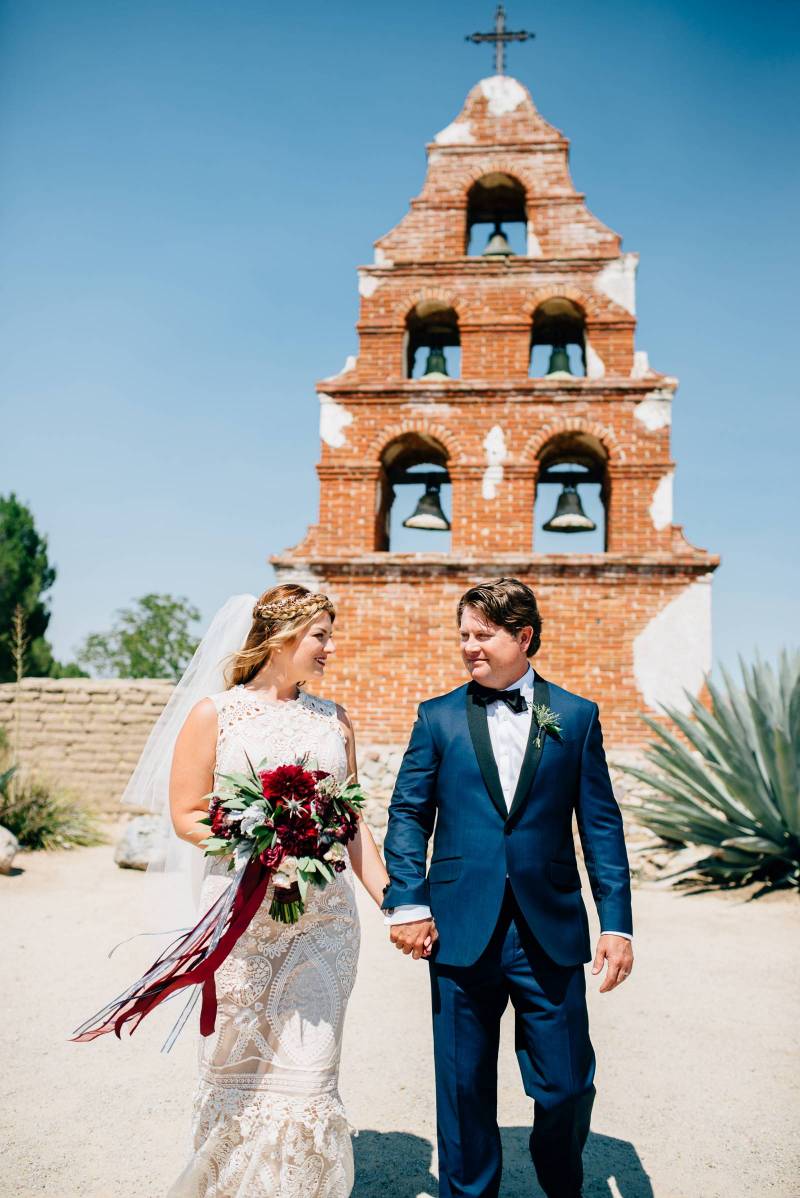 Amidst a team of accomplished Wedding Artists, Photographer Amber McGaughey, who prides herself on her incredible use of light, showcased her talent by timelessly capturing the vibrant colors and magical moments of this couple's special day. With a fairytale-esque proposal, it seemed only right that this Bride and Groom tie the knot in a traditional yet romantic way. The sultry and vintage style floral design was beautifully juxtaposed with the blue skies and gold rolling hills of San Luis Obispo, making it truly picture perfect.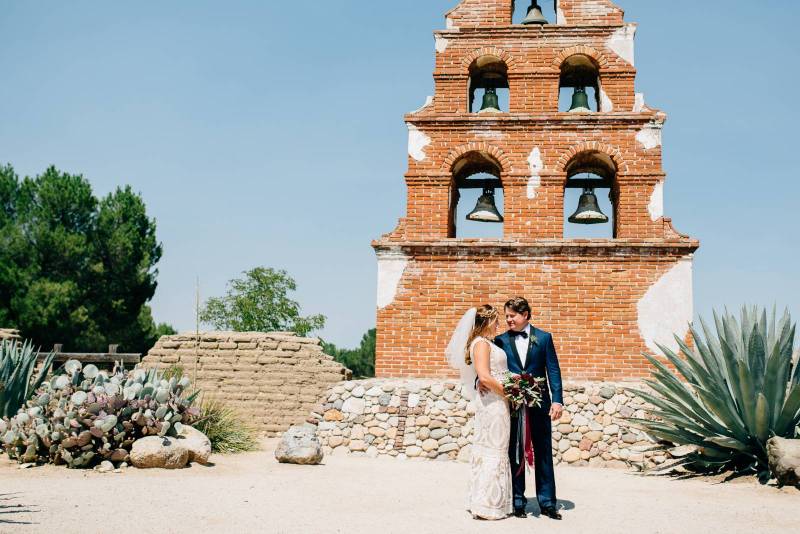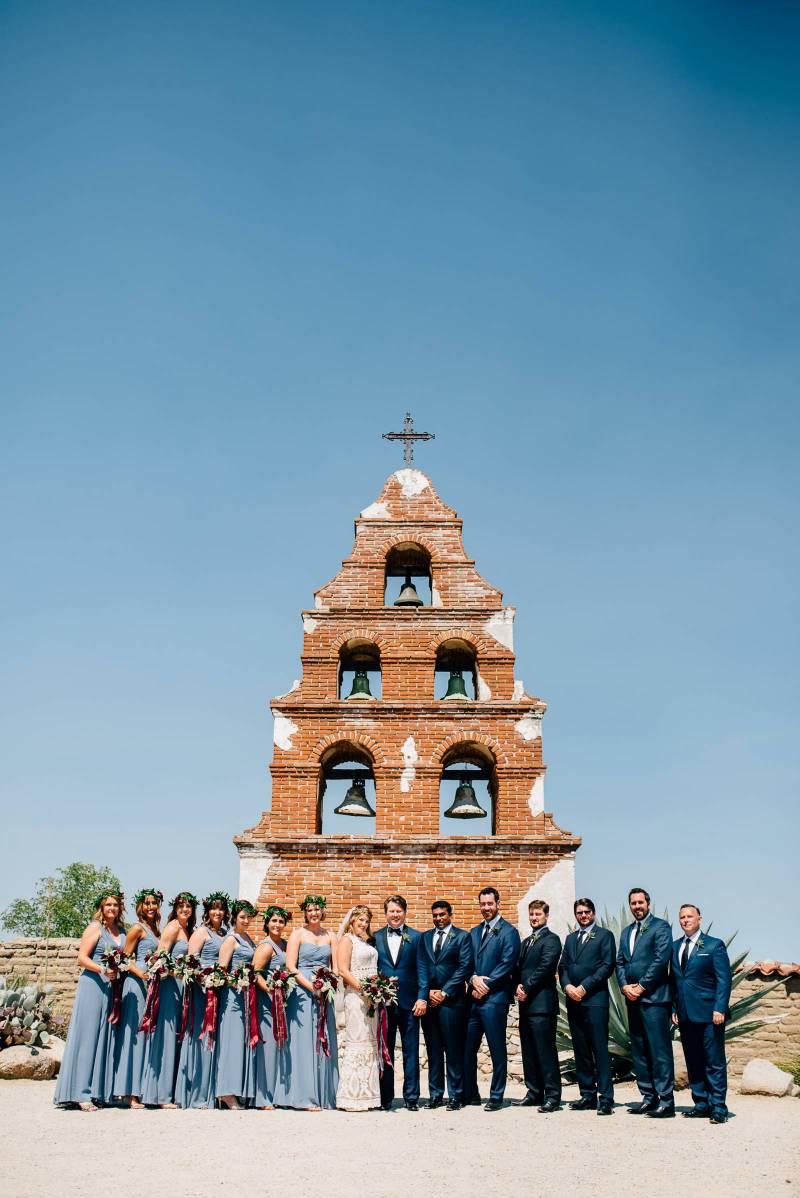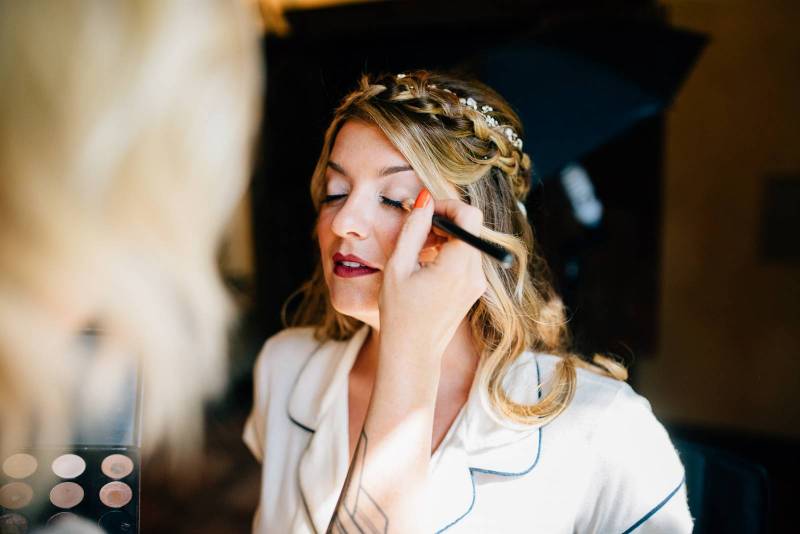 Girl meets boy!

Brian planned an adventurous vacation to Germany and Belgium. He surprised me at Neuschwanstein Castle with a proposal, like a true prince charming!! With breathtaking views of the countryside, we stood on the balcony, when I turned around, he was on one knee and then he asked me if I would marry him.
Wedding Planning Inspiration

We knew we wanted to get married on Brian's family vineyard, so it would have to be outside wedding reception. It was important to us to get married in a Catholic church and the historical San Miguel Mission was the perfect location. It was old California, with the original paintings inside the church and classic architecture. The theme for the reception we were going for was something between nouveau bohemian and sophisticated countryside. We had to have our wedding in early September before harvest and after the supper heat. To achieve my look, I chose to go super floral with pops of sultry burgendy, vintage furniture, and luxe fabrics.
Color Palette

The beautiful golden rolling hills, vineyard greens, and pale blue sky inspired my bolder color palette. The colors were marsala, dark burgendy, dusty rose, mauve, dusty blue, navy, and cream. I loved the juxtoposition of the dusty blue with the dark burgendy.
The Details

I was most excited about the flowers. My florist was amazing to work with and understood my vision, and was able to direct me to the exact varietals of flowers that would go together flawlessly. I had flower crowns, lush bouquets with ribbons, varying table arrangements in brass vases, and a flower topper for my cake. My second favorite detail was setting the ambiance to go with my theme. The velvet furniture, antique dishware, satin table cloths, and brass details brought the nouveau bohemian look outdoors for lighter, fresher feel. The details really made my vision a reality.
Memorable Moments

The most memorable moments from the day was our short intermission at our AirBnB house rental. The bridal party got to kick back by the pool for a bit and have much needed refreshments before the reception. It was nice to good off a bit, and play around with the polaroid cameras. The speeches were also extremely touching to Brian and I. We were laughing and crying, completely overjoyed.
Raddest Wedding Vendors

All of our vendors were spectacular!! Brooke from All About Events, not only coordinated the whole event, but was my main point of contact the entire year as we put our vision together. She was beyond fantastic to work with, highly recommend her. Audrey from Botanica lifestyle completely crushed it as far as my vision for ambiance with her rentals and floral skills. Super sweet and organized also a must have. Amber my photographer really knows how to capture the light. She brought an assistant to help capture all the amazing moments of the day. It was really great having an engagement session with her before hand. She did an amazing job with the photographs, and provided quick turnaround so we were able to easily share with friends and family. DJ Johnny Walker was also spectacular. I had hired him off a recommendation- never even met him. We received so many compliments on the music. He was able to read the crowd so well. Out caterer was Tracy from Field to Table. The food was healthy and delicious. As a Registered Dietitian the food was super important to me and Brian. The food was really fantastic, highly recommend him! Also a crowd favorite was Batch, our wedding dessert on wheels. They make the most amazing ice cream sandwichs that our guests self select their preference.
Advice for Newbie Brides

Focus on what is important to you. The ambiance was super important to me, and the details of the furniture and table scapes did matter. Other things like providing take home favors or excessive Pinterest crafting seemed unnecessary and stressful to us.
Would you recommended TWS to a friend?
Yes.
The Central Coast is the perfect location for any style wedding with it's ideal location and sunny weather. Find your perfect San Luis Obispo Wedding Venue.