Girl Meets Boy! Tell us your love story!
"Thane and I are high school sweethearts! Our fate fell into the hands of a few friends who indirectly set us up our senior year and the rest is history. The proposal actually took place at the same lake on the same dock of our first date- just about 8 years later. Followed by a celebration with our closest family and friends- including the ones who set us up!"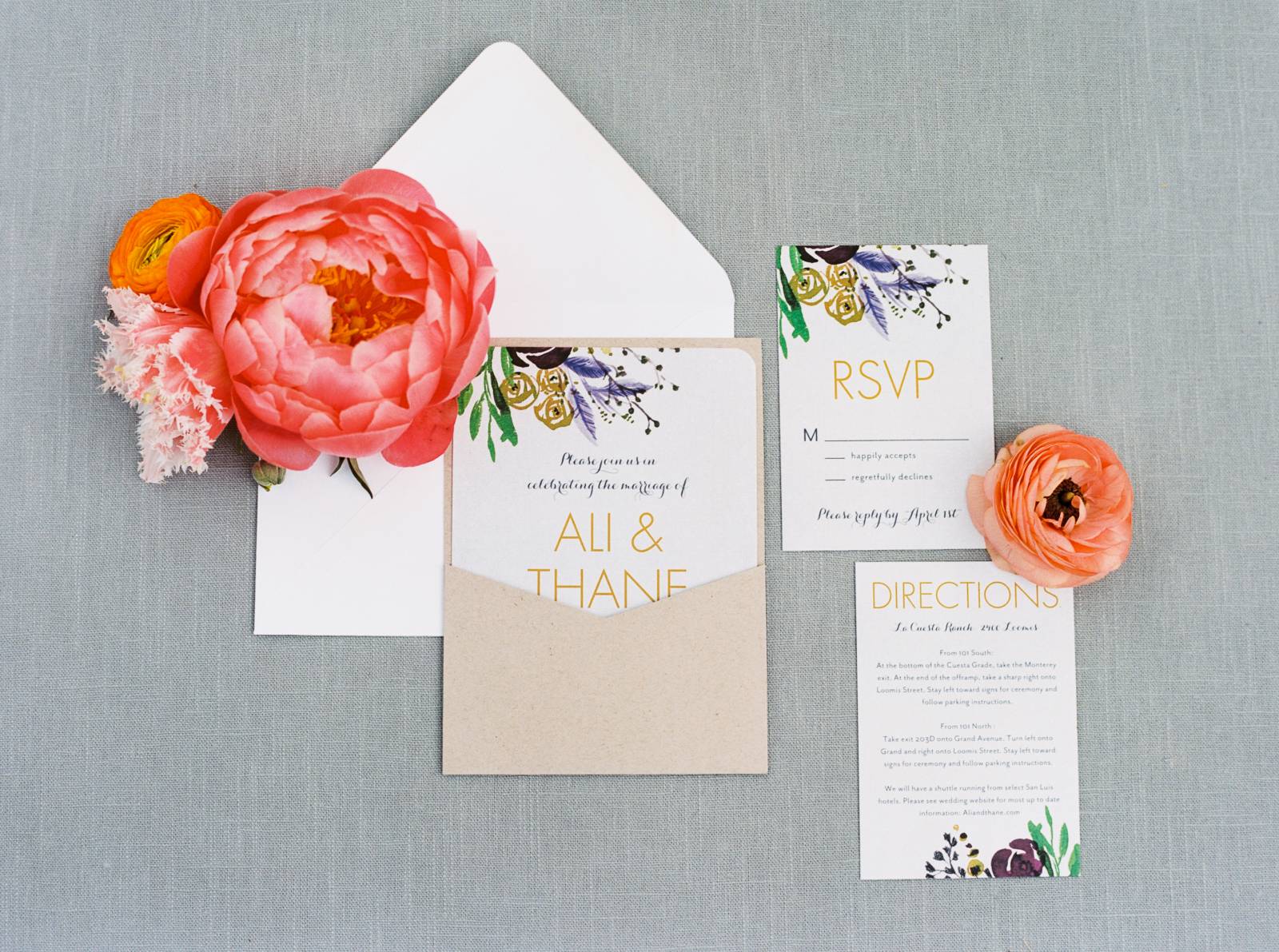 From the designer's perspective...
"We were inspired by the venue itself, Ali and Thane's fun personalities, and their rustic/boho style. The couple wanted their favorite colors and personalities to be displayed on their wedding day. Bright, cheery and fun!"
Tell us what inspired your wedding style and or theme.
"Our venue was super inspirational and we chose colors (blues with pops of coral) and a style that matched the rustic beauty of the barn. I also focused on some of my favorite colors and patterns then our wedding designers, Lovelyfest, helped it come to life."
How did you utilize your skills and experience to make your bride's vision come to life?
We really took what Ali told us about her favorite style and colors to heart. We designed around her palette and chose linens, rentals, flowers and paper goods that would help bring it all together cohesively.
As Ali the bride said, "I do not have the words to accurately describe the feeling that I had on my wedding day. There were so many emotions throughout the day from nervousness, excitement, joy and obviously love. I was so nervous getting ready with my mom and bridesmaids, that I didn't even know what to do, but when we arrived to the venue that afternoon I was truly speechless. We arrived to my dream wedding. I don't even know how it happened because I knew I didn't do a phenomenal job of expressing what my vision was, but it was like our designers/coordinators got inside of my head to design the most beautiful and personal space I have ever seen. From the flowers, to the signage, the linens, and decor, I was speechless, it was actually the first time I cried all day! I would highly recommend hiring a designer/coordinator at least for the day of your wedding, not only are they pros in coordinating dreamy weddings, but they make your life so much easier and allow you to enjoy your day without a single worry (my mom also swears that because of their knowledge and expertise, they saved us money!)."
Describe 1 or 2 details (about the wedding) that you were the most excited about.
"One of our favorite details (that wasn't even supposed to happen) was the beautiful tent from AAE. The forecast for rain kept going in and out, and we were really at a point that we had to make a rain plan decision. We, and the couple, decided it'd be better to be safe than sorry, so we rented this beautiful tent. It ended up being a perfectly sunny day, but we still think the tent lent a more high end feel to the ranch and made it a bit more cozy and fun! Another fun detail was just the flowers and linens together. The fun Ikat blue and white print mixed with the colorful flowers fromPrecious and Blooming just made us happy!" - Lovelyfest
Tell us which wedding artists knocked your wedding shoes off and why!
"Lovelyfest- can't say enough about these ladies. They were a dream to work with and made my vision a reality. Jen Rodriguez captured the day perfectly and Steelhead put together the most beautiful video that we still watch all the time."
Describe 1 or 2 details (about your wedding) that you were the most excited about.
"Sharing your love in front of your closest family and friends was the most exciting part of it all. Other than that, definitely theCentral Coast Brewing beer truck and Sugar Lips Mini Donuts! Also, seeing the venue set up and beautiful was a top moment of my life."
Knowing what you know now... what advice would you have for other brides planing their wedding?
"Get as much done as possible at least a few days before the weddding so you can be fully present. Delegate tasks and don't sweat the small stuff. Also, if you have the resources to use at least a day of coordinator to take the stress off during the big day."