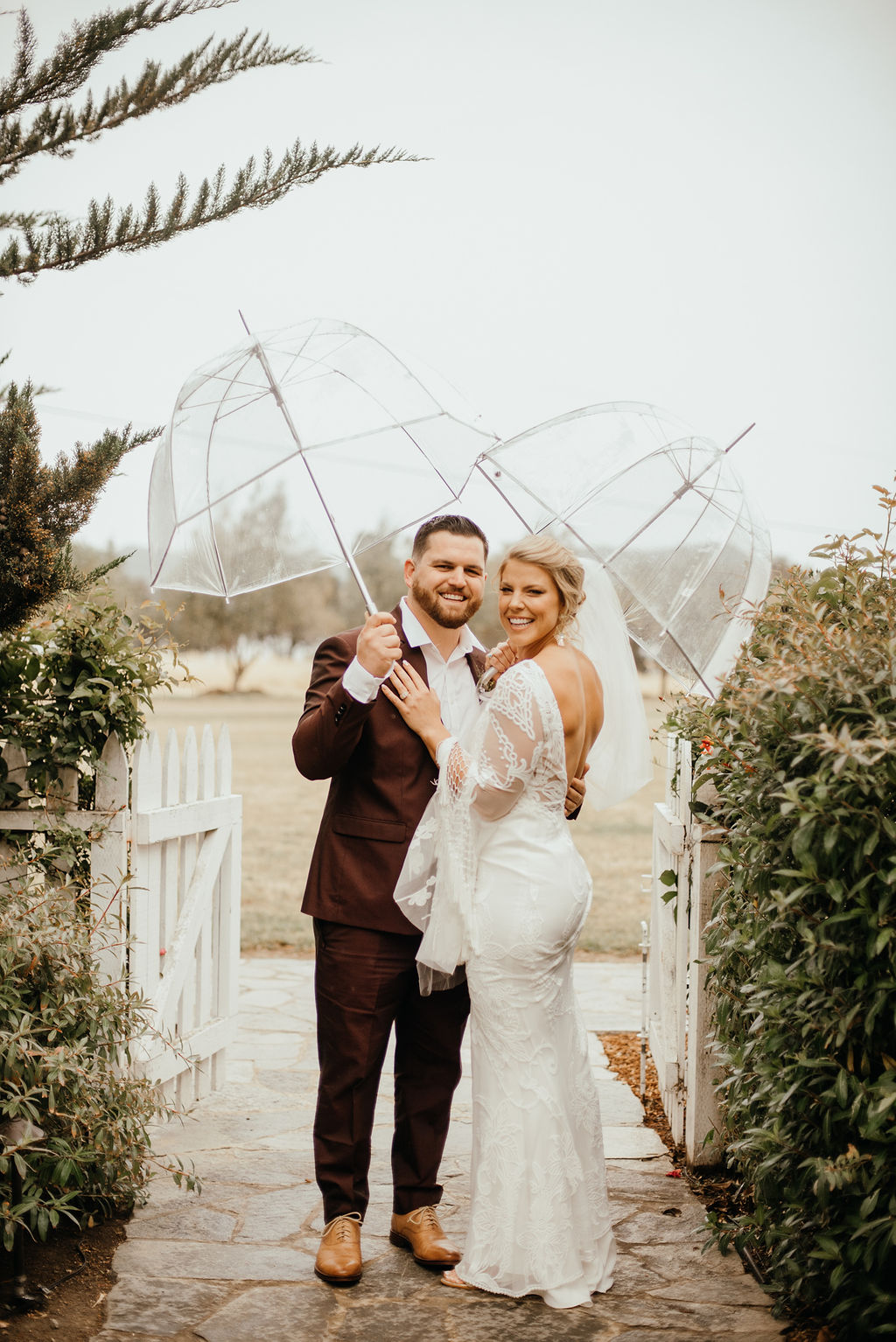 Girl meets boy!
I played water polo at UC San Diego with Andrew's sister. He came to watch a tournament one weekend and swooped right in! A few pizza dates, scooter rides, and awkward moments later, we were in it forever. Andrew planned such a romantic engagement, it was unreal. He surprised me with a helicopter ride from Santa Barbara to the wine country in Santa Ynez. At our private lunch on the veranda, he dropped on his knee, showed me the ring, and I said IS THAT REAL?! Andrew used the same jeweler that my dad used to design my mother's 35th anniversary ring to design my engagement ring. It is stunning, unique, and so so special!
Wedding Planning Inspiration
Boho fiesta, my family laughed as that is the term I kept using as my vision. I knew that I wanted all bridesmaids to wear different colors and dresses, I wanted the flowers to be bright and whimsical, and we wanted good food, so we ate pizza and ice cream! I had a blast collecting furniture and goods for an entire year to pull of this look. I loved it so much I started a company called Antlers & Armchairs so that I can do it for others as well!
Color Palette
This was a question I got a lot, and my answer was always all colors! I got a lot of confused/concerned looks, but I knew that it was going to be beautiful. Between centerpieces, flowers, and bridesmaids, I would say the color palette I went with was mustard yellow, pinks, orange, deep teal, dark greens, gold, and wood tones. I know it is a lot and I wouldn't have had it any other way.
The Details
Hands down the Cal Poly Acapella group, That's The Key. We had them preform all of our ceremony music and it was incredibly special. When they sang Hallelujah, I don't think there was a dry eye in the tent (or crystal palace as I called it.) And then of course Bear & The Wren with their pizza truck were awesome! Andrew and I would choose pepperoni pizza over salmon any day, so this was a no brainer at our wedding. It took some convincing to our parents that it would be cool to serve pizza at our wedding, and we are so glad that they went for it, so so yummy!
Memorable Moments
It was so important for us to make the ceremony piece of our wedding really special, after all that is why we were all there! From the acapella group, to our brother in law officiating, to a lemoncello toast between our mothers to unite the families, to hand picked readings from our cousins, it was just such a heart exploding experience for us. Also, with the unexpected rain that had me stressed out and in tears most of the week, we ended up having to get married in a clear tent. I was terrified what this could do to our day, but it instead made for such an intimate, cozy affair, so magical. Also, watching Andrew and my sister do a first look before us was hilarious, it was just perfect for their relationship. Oh and Andrew had all of the groomsmen write me personal letters while they were getting ready, I cried and will cherish them forever!
Advice for Newbie Brides
Do not sweat the small stuff! I promise this day will hands down be the best or one of the best days of your life just because you are marrying your best friend. No matter what happens, you will wake up the next morning married with the best memories to relive forever! Oh and if it rains, it is okay to cry for 10 seconds, and then get out there and dance in it, its good luck after all!