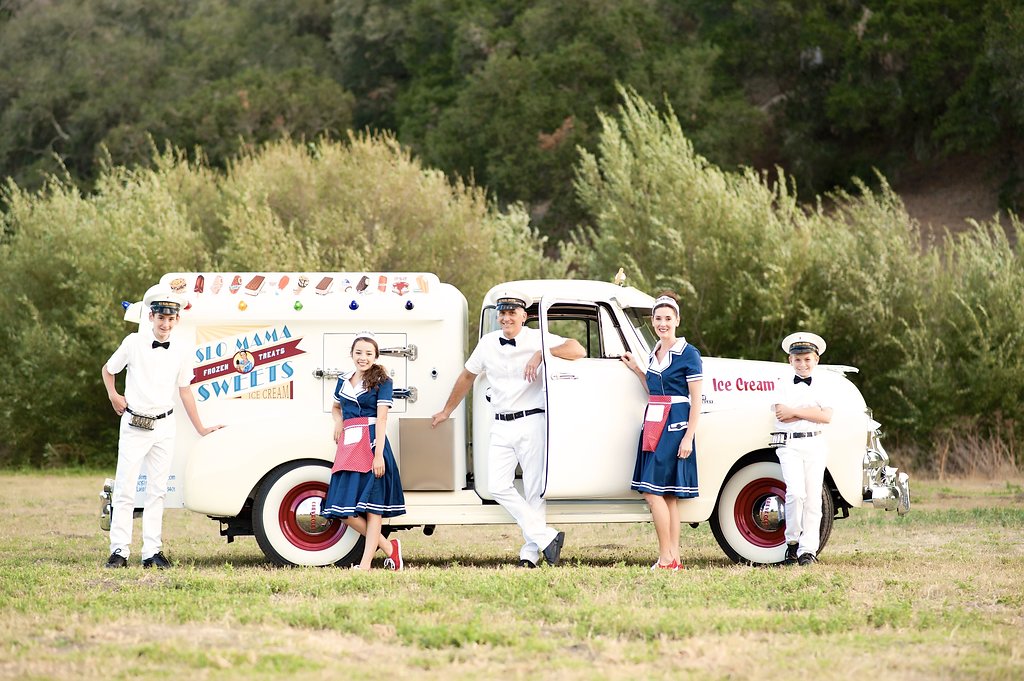 Featured in The Wedding Standard's print magazine, this interview with Kathy of SLO Mama Sweets, shares the sweet story behind the 1950's Ice Cream Truck that Kathy and her family started. Written by Shaunna Angell and photographed by Shannon Moore of Plum Jam Photography, read on below to hear the unique story of what makes SLO Mama Sweets so special!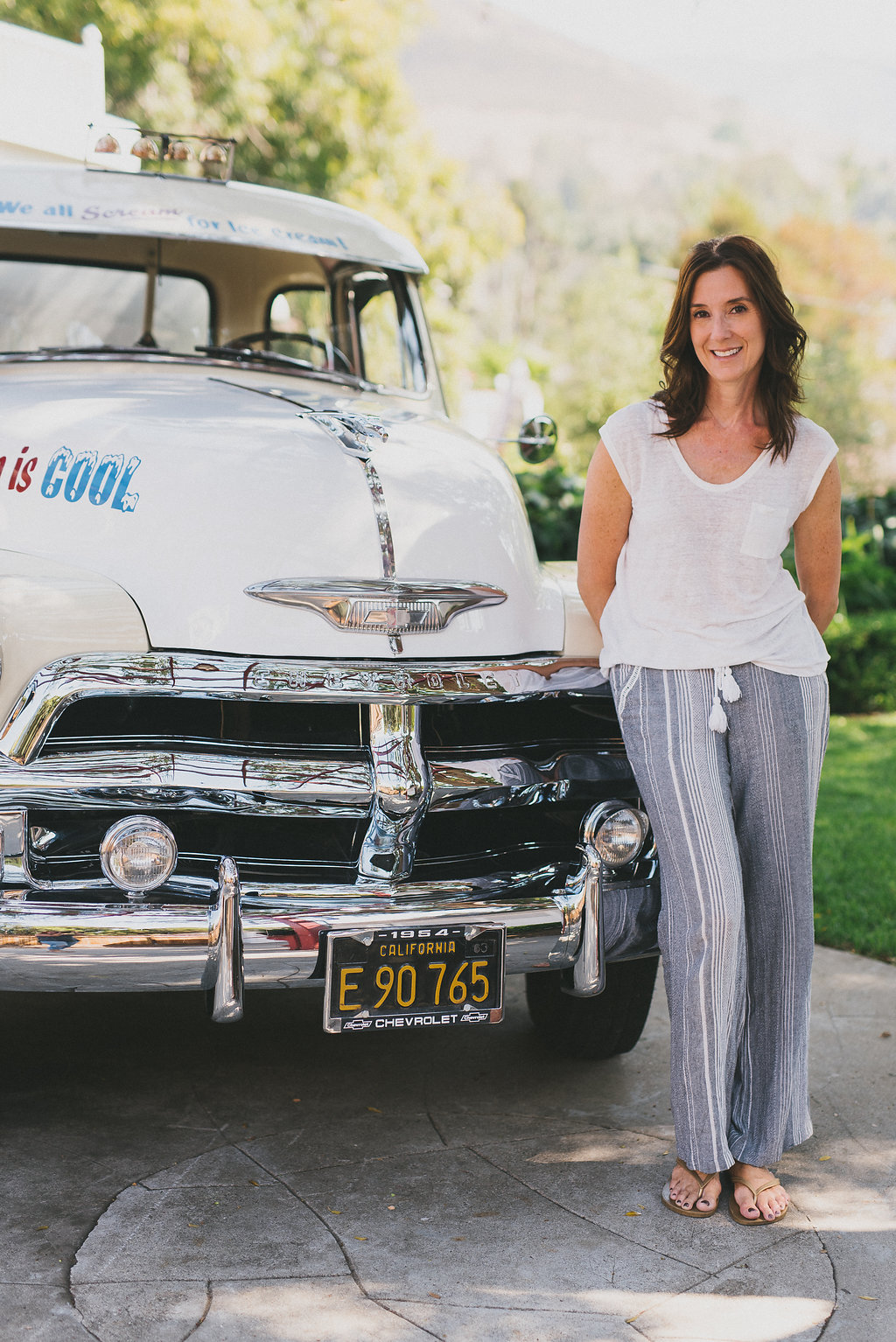 As a committed supporter of the 'desserts first policy,' I worked through my morning routines with an uncharacteristic level of enthusiasm on the day of my scheduled chat with Kathy Callahan of SLO Mama Sweets. I wound up and down summer soaked San Luis streets and arrived at her doorstep just a few minutes before our set interview time.

As the front door swung open, I was greeted by all things sunshine and goodness. Welcoming me into their home was Kathy, her lovely sons and their two bouncing, fluffy pooches. Light poured in through big windows, the smell of freshly baked cookies swirled around me. I couldn't have even imagined a more perfect backdrop to a woman who wears vintage dresses and serves ice cream for a living.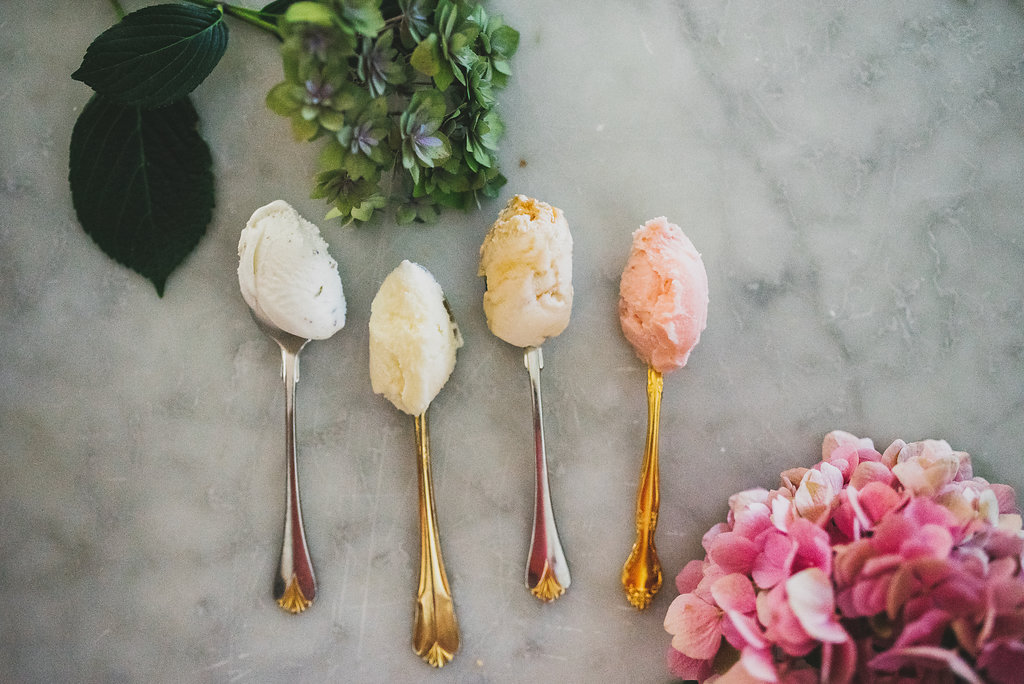 The ice cream is served straight from the coolers of a 1950's Good Humor ice cream truck replica, to be exact. Kathy, her husband and their three children don classic 50's attire and offer ice cream truck event catering with a completely unique, nostalgic experience. In their second year of business, SLO Mama Sweets caters frozen desserts on site for weddings, anniversary parties and other
special occasions.

Once settled into their cozy living room, Kathy catches me up to speed with the history leading up to her SLO Mama era. She begins by telling me, "You know, I have an entrepreneurial spirit; it's been in my blood forever. Before we had kids I had a manufacturing company with my sister. We designed and manufactured children's apparel; we literally started in the garage and by the time we ended we were selling to places like Neiman Marcus and Nordstrom."

The traveling and time demands of the business eventually prompted its end when they decided that starting families wouldn't be conducive with keeping up in that industry. But before that chapter was closed completely, Kathy and her husband were hit with what she describes as the battle of their lives.

"Ten months after we were married, I was diagnosed with stage four Hodgkins Lymphoma. It was just... crazy. But I survived by the grace of God, from there we kind of redefined what was important. When you have something like that happen in your life that really shakes everything up, it makes you realize what's important and for us that was family."


Even when the aftermath of the post-cancer war left Kathy and her husband unable to start a family naturally, they persevered on their journey to become parents. "We weren't able to just have a family, so through adoption and In Vitro we were able to collect our three children," she tells me, smiling. "They came to us in miraculous ways - each one, which was pretty incredible."

Moving forward with her family, Kathy began seeking the perfect job that wouldn't take her away from the busy and growing lives of her children. "I didn't want to be away from them, I wanted to be with the kids. I had a crazy, weird talent for baking cakes and turned that into a business out of my home; doing wedding cakes and desserts."

"I saw how the wedding industry was evolving to where people didn't want cakes anymore. They [wanted] pie weddings, dessert bars and things that we didn't used to have. So I started making all these different things and realizing that the wedding industry was transforming, it was not what it used to be. In this area amazing venues started popping up and all these super creative people, and I desired to be in that but I wasn't sure that I was in love with baking anymore... So I set about trying to find a business I could involve the kids in because I didn't want to leave the home."
Landing on the perfect, modern wedding related business that could be run from home proved to be a challenge. It wasn't until a family trip to Washington D.C. that Kathy found the inspiration she needed. "We dragged those kids to every single Smithsonian - there's probably ten of them! And around the sixth one, we rounded the corner and in front of the museum, on display, was a vintage Good Humor [ice cream] truck. And it was like boom, a lightning bolt hit me and I saw the uniforms, I saw everything in that minute."

From there it was a whirlwind of research and merging contacts along the trail to acquiring the classic truck. "We realized we were either going to have to put a ton of money into restoring a vintage [truck] that was rusted out or we'd have to build it from scratch. We found an original mold for a 1950's freezer box from a Good Humor truck and we found the guy to make it. It took about two years and was a really crazy process, we literally put the truck together the way they used to. So it is an exact replica of what they used to look like."
SLO Mama's freezer box is stocked with a diverse variety of both traditional and local, artisan ice creams, pops and bars. For weddings, Kathy consults with the bride and groom to hand pick a tailor-made menu of about 20 items from either the traditional menu, artisan menu or a combination of both. Included on the local menu are treats from Doc Burnsteins, Negranti Creamery and Leo Leo Gelato, with both gluten free and non-dairy items.

In terms of planning for a wedding, I ask Kathy what she typically asks a bride and groom during their initial conversations. "When I talk to a bride and groom, I ask them 'would you like to come over and see [the truck]?' Because they've only seen it online and it's a really pretty truck in person. I want them to be able to envision that it's not going to be garish or corny, it's actually going to add to an elegant wedding."

Another topic that Kathy mentions is pertinent to the pre-wedding planning is the entrance of the truck and whether or not the bride and groom prefer a surprise arrival for the guests. "I think every one of our brides so far has made it a surprise for their guests! So we wait out in a field or a vineyard hiding until the coordinator calls us to come down," she tells me. When the "special surprise" has been announced and the call is made, Kathy cranks up music on the truck's sound system and rings the bells, making the grand entrance she describes as "performance dessert."

"People start crying and jumping up and down, just freaking out when they see us coming! And then we hop out and we're wearing our uniforms and it's just delightful. We are always surprised at the reaction, I don't think we'll ever get used to that because it's so fun to see people's faces, they know it's special."

"Just for the two or three minutes that people come up to the truck we are giving them an experience they can't really get anywhere else, and for some people it's something that brings back beautiful memories. And for the kids who have never seen it, they know it's different. They know it's not a typical experience and it's really a privilege to provide that, it's more than I ever thought or set out to do."
From neighborhood favorites such as the 50/50 bar and Firecracker Pop, to the Negranti sheep's milk cookie sandwiches; sweet connections are made as each guest steps up to the truck. The treats are just the cherry on top for Kathy though, the loving interactions made, both between her family and the guests, are truly the driving forces behind the whole operation. "I can't imagine not being able to do this with my kids, the family aspect is most important. And the fact that as a family we get to bring a moment to people where they feel happy and transported out of what's difficult. I can't tell you how many people tell me their stories when they come up to the truck. Maybe it's the connection to their past or the fact that it's something sweet and innocent. I don't know what it is but it's an amazing privilege for us to be able to listen and give them something sweet as they go on their way."

Between the ice cream and the nostalgia, Kathy and her SLO Mama crew bring an unmatched atmosphere that makes a wedding just as sweet as its desserts.