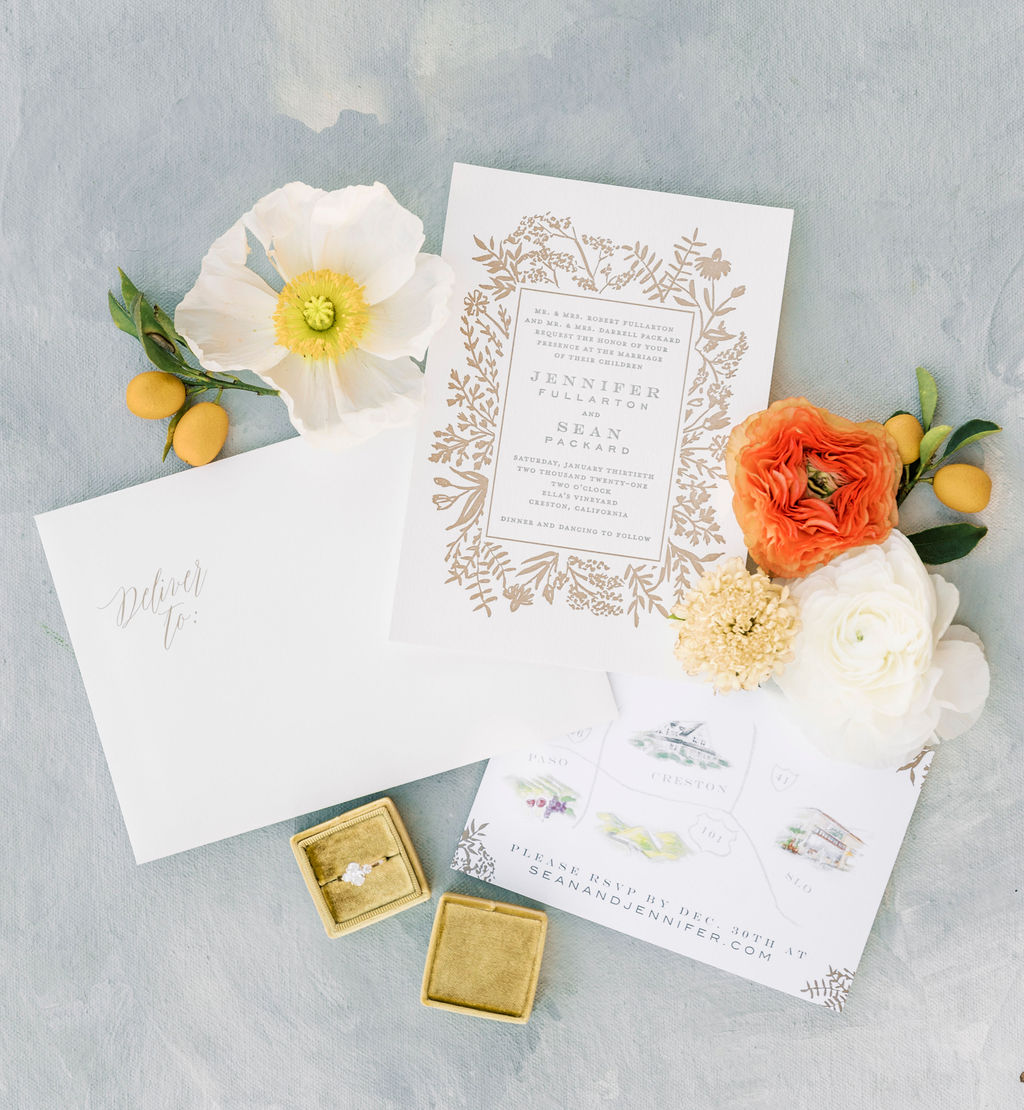 How did this love story start?
We met through friends originally, but as Sean became more interested in getting to know me, he'd walk his dog, Gracie, past the cafe I own and pop his head in to say hi. Next thing I know, the civil engineer and servant he is, he was offering to help with a broken filtered water system at the shop. A month later he asked me out and made my favorite cocktail, a whiskey sour. Turns out we not only had the same favorite drink, but shared similar personalities and interests. A year later we were walking down the aisle to say "I do."
What inspired your wedding day style?
I didn't have many dreams for my wedding growing up, but I always pictured it in vineyard with a beautiful home on the property. When we stumbled upon Ella's Vineyard it was perfect with the oak trees, big lawns and wrap-around porch on top of a hill in Creston, California. My mom always had English roses in her garden growing up, so I knew they'd be beautiful and add a hint of elegance in our country setting. It was the perfect balance between romantic and a country feel in the middle of a California winter wedding.
What colors did you pick for your overall theme?
Light blushes and pops of citrus. Sean's parents grow lemons and oranges on their property and I have always thought citrus was so beautiful - so it made sense to add it throughout the wedding.
Tell us about a memorable moment that sticks out to you.
Walking up the aisle and seeing the big white clouds among blue sky, hearing the chirping birds and the acoustic guitar - all after a huge storm that week, was amazing. The rose petals on the aisle and my almost-husband at the end was the best moment of my life. The dance party was epic, too!
Tell us about some of your vendors!
Sam with Zest it Up was the best ever! I wish we had hired her sooner. Flowers By Kim (a Zest it Up rec) made the entire venue that much more beautiful with her arrangements.