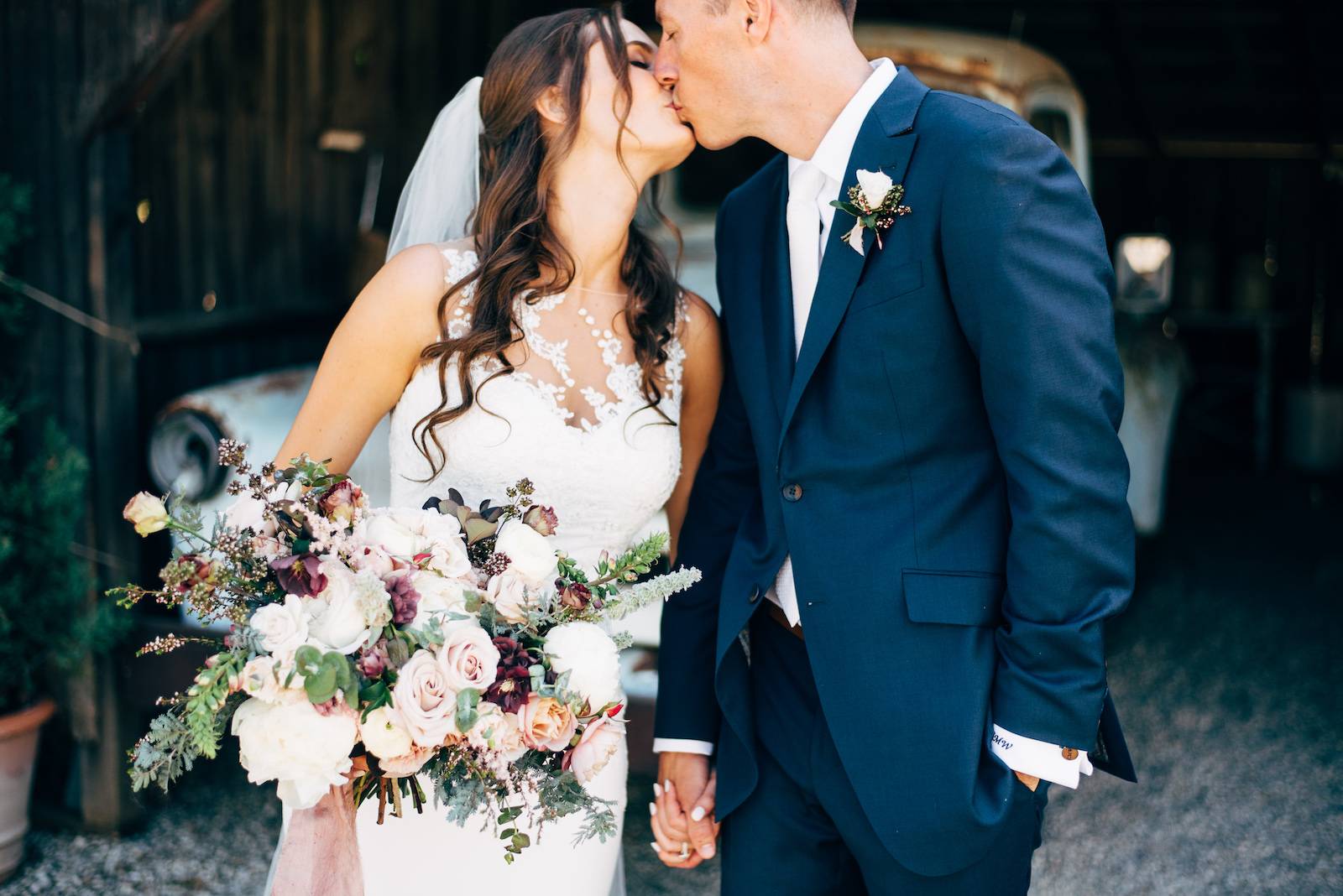 From the Central Coast setting, to the florals, to this couples love, everything was meant to be at this wedding. Vintage glam would be the best way to describe the day. The bride and groom were able to feel that both of their needs were met when they chose the stunning Dana Powers House and Barn as their venue. It was the rustic barn yet classy touches that caught their attention. April Flowers came in and adorned the placed with stunning florals, while A Lovely Creative made sure that each detail was in order.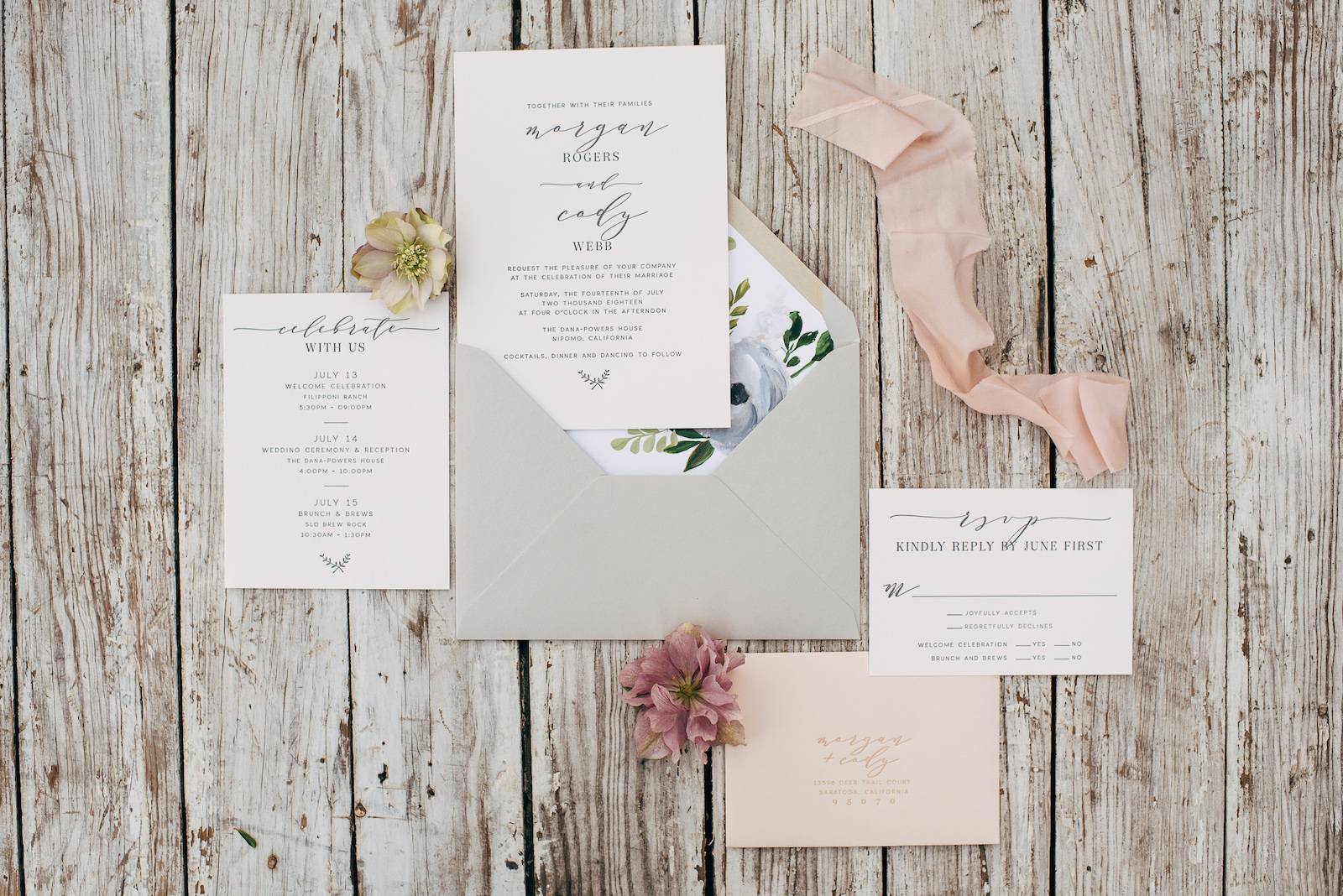 Girl meets boy!
It was love at first swipe! Cody and I met on the Tinder dating app in 2013. After talking back and forth for about a month, we went on our first date and the rest is history. We both knew right away that this was something special. Fast forward to May of 2017, we were on a weekend away in Solvang. Cody had planned to propose while wine tasting, but bad weather and our crazy puppy thwarted his plans. As we drove back home to the Bay Area, Cody was trying to figure out a new plan. He saw there was a dog beach in Avila and made a quick detour. We were having the best time playing with our puppy, Carson, on the beach when Cody caught my attention and brought me over to a quiet side of the beach. He proposed to me with our pup standing right next to us. It was a pretty perfect way for our proposal to happen!
Wedding Planning Inspiration
As soon as we stepped foot at the Dana Powers House, it felt right. We loved the rustic barn, the vintage furniture, and the touches of glam throughout. Cody and I felt it was the perfect mix of our styles.
Color Palette
We chose really soft, romantic colors for our theme. We had a mix of soft pinks, gray, mauve with mixed metallics like copper and gold throughout.
The Details
The flowers were one of the most important aspects for me, and April Flowers did an absolutely AMAZING job bringing our dreams to life. We were so excited to see the floral structure she created above our sweetheart table and my bouquet. I regularly look at photos of my bouquet how stunningly perfect it was! I couldn't wait to see the inside of the barn with all of our decor together. From the tables to the flowers, to the candles surrounding the entire barn, it was breathtaking to see it all come together.
Memorable Moments
My father in law restored a 1959 Ford F100 truck for our wedding day. It was the same truck that my in-laws used to drive away in on their wedding day. As our guests were enjoying dessert, Cody and I drove the truck into the field behind the venue for sunset photos. It was a really special time for us to relax and take everything in (and Cody got to enjoy driving the truck around!) We had my father in law come take a photo with us in front of the truck, which was a really special moment. During the last song of the night, all of our guests formed a large circle around us while we danced. As I looked around the room, I was filled with so much love and happiness that I was able to share such a special day with our close friends and family.
Advice for Newbie Brides
A big part of why we enjoyed wedding planning has a lot to do with the vendors we chose to hire.Every vendor was so helpful, communicative and passionate about their work. Take the time to meet each person to find the right fit! Also, enjoy the process and make decisions together as a couple. Take the time to sit down and discuss what is important to each of you. Being engaged is such a special time that can get lost in the wedding planning process. Every time we drove to SLO for wedding meetings, we always made sure to plan a fun activity after the meetings and spend extra time there.