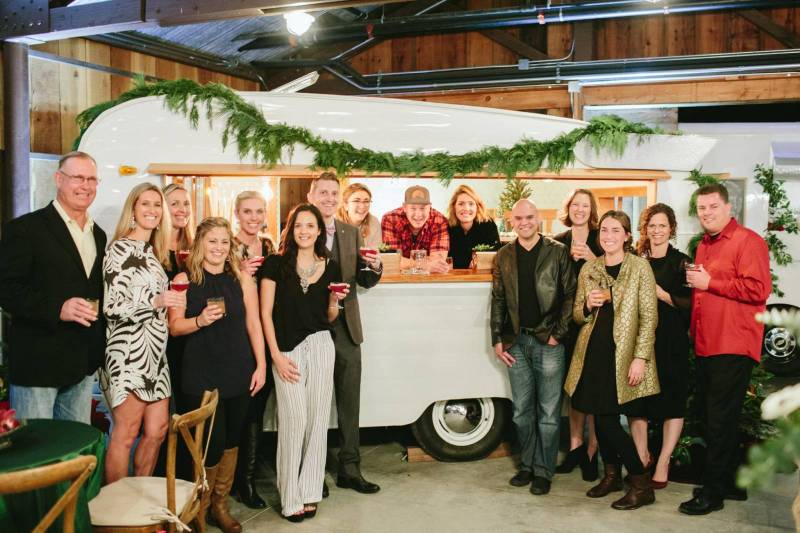 Our Wedding Standard members threw a huge holiday celebration at the new Oyster Ridge barn by Ancient Peak Winery. What's amazing about these parties is that it's produced by a team of a dozen or so artists who also get to participate in the festivities.
Every community event we come up with a theme. This one was "Better Together". After I gave thanks to our team of artists I encouraged everyone to look around at the people they came with; the spouse, the business partner, the friends. Look at the wedding designers who craft the most beautiful atmospheres that would otherwise be dairy barns, empty fields or grass lawns. Look at the caterers who make wedding food that tastes like flavor explosions for hundreds of people and somehow makes it look like a work of art at the same time. Look at the hair and makeup artists who weekly turn women into glamorous head turning brides and bridesmaids. Look at the floral designers who combine seemingly random varieties of cut flowers and sprinkle them all over barns, tables and aisles in a pattern that makes a ceremony feel like a fairy tale.
I look around at this community and realize a few things...
I couldn't do what I do without you all!
I'm do better work because of you all!
It's so much fun to work with my friends. The people I believe in and who believe in me!
I'm thankful for all of you who have partnered with me in my vision over the years to grow The Wedding Standard into more than just a website, but a vibrant, encouraging and inspiring community. We really are #bettertogether!
Major thanks so Azurae from Ciel Bleu Events for coordinating and bringing our collective vision together to make the night unforgettable!