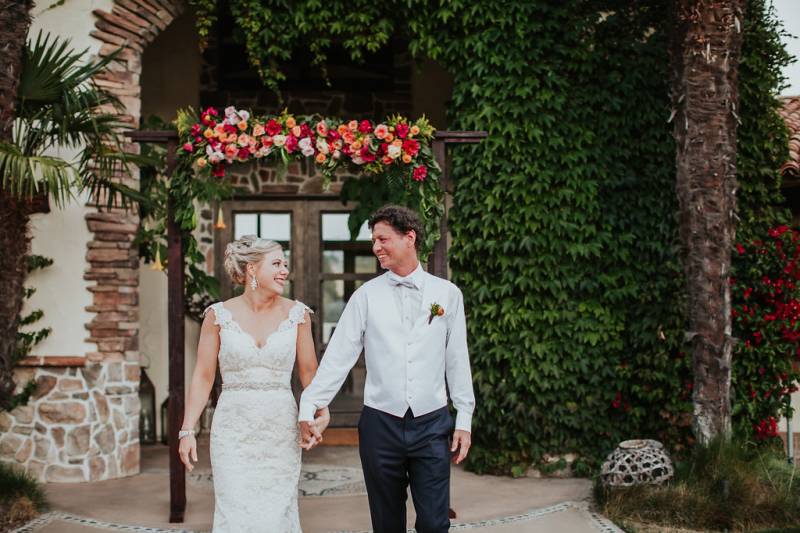 An intimate San Luis Obispo destination wedding at Casa Contenta reflects California cool through the brilliant vibrant colors, beautiful florals, and unique Fiesta style. The Spanish estate nestled in Avila Valley makes it the perfect small Hacienda-themed wedding venue to get married at surrounded by one's closest friends and family. Photographer Alexandra Wallace perfectly captured the sentimental moments and exquisite details of Jessica & Charley's beautiful destination wedding!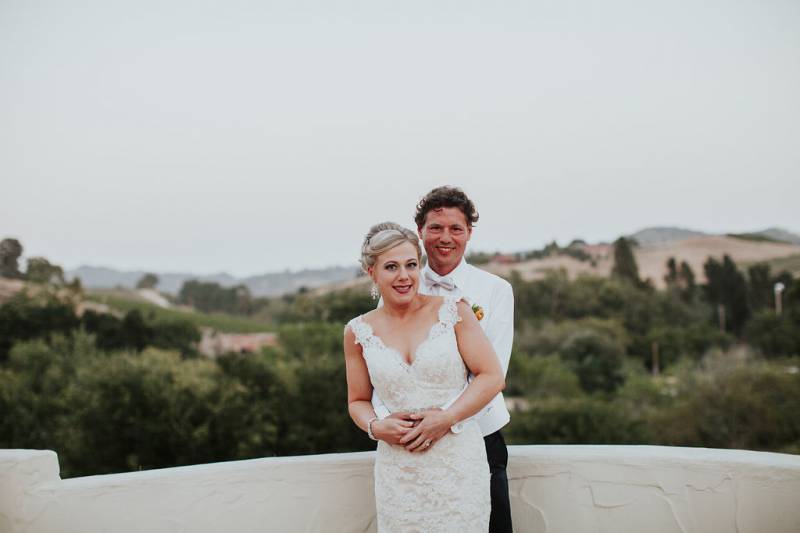 Tell us what inspired your wedding style and or theme.
"We wanted the wedding to be bright, colorful and relaxed, but elegant. Being a destination wedding, we also wanted the style to work well with the location and environment - so we chose a Hacienda theme."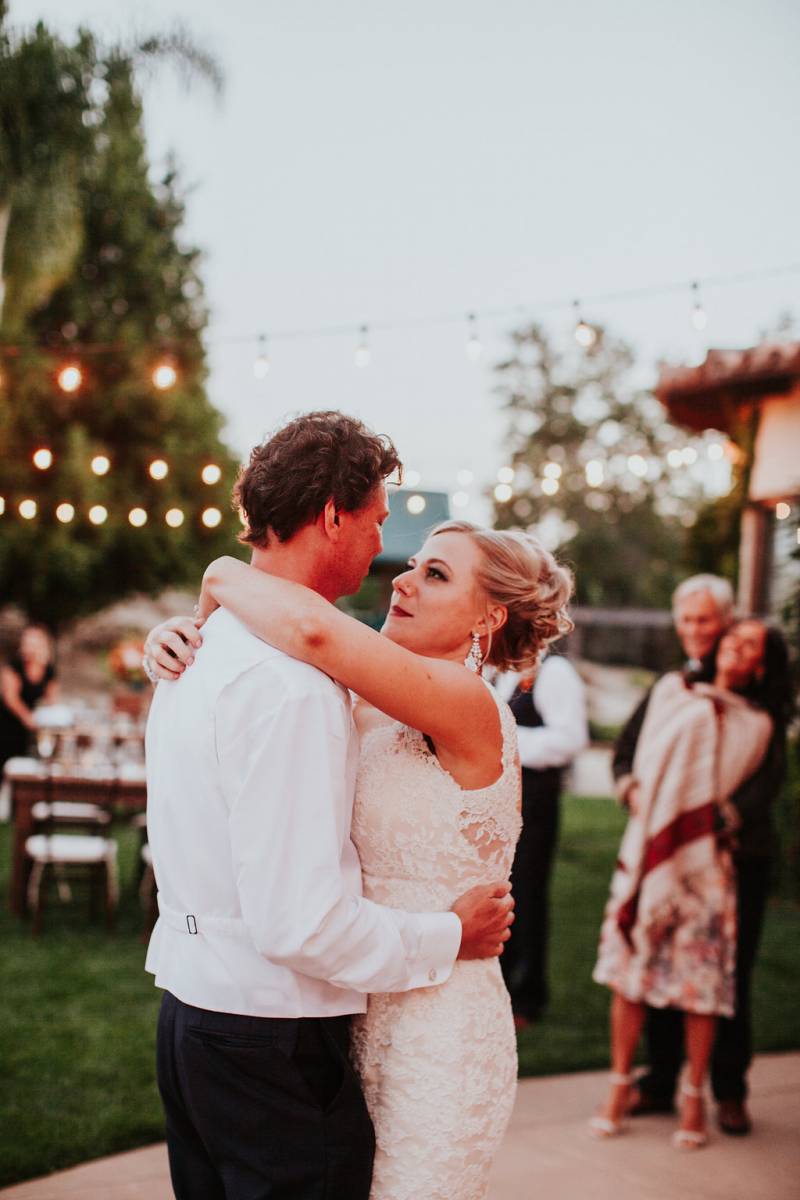 Girl Meets Boy: How our love story began.
"Charley and I met while working together on a project. We've been together for 5 years. He proposed on June 19, 2015 at Yellowstone National Park, in front of the Emerald Pool at the Black Sand Basin. Why are we together? We make a great team and it comes naturally. We enjoy our time together and make it a priority. We support and encourage each other with activities and hobbies that we have as a family (ex. snowboarding), as a couple (cooking) and individually (Charley plays in a band). Charley and I both live in the moment, which makes life together feel like one big adventure."
What colors did you choose for your overall theme?
Our main colors were red and magenta (two colors I love paired together), with turquoise as an accenting color.
"Eden Florals KILLED IT with her floral design! Her centerpieces, ceremony arch and bouquet were all so vibrant and detailed!" - Alexandra Wallace (Photographer)
What memorable moments from the wedding stood out to you?
"The elements from our wedding that are unique to us. Our officiant is a long-time friend of ours, which made the ceremony intimate. We also wrote our own vows. Our best friends' speeches during the reception toast meant so much to us. One amusing memory is our toddler, Corinne playing the rogue flower girl. She walked up the aisle, dumped her basket of petals, then took off running. The ceremony went on - as my best friend's fiancee chased her down."
Were there any challenges in planning your wedding?
"The fact that I was planning a wedding across the country felt a bit overwhelming. But I am glad that I took on the challenge! The Wedding Standard was a great resource for locating high-quality vendors."
Tell us which wedding artists knocked your wedding shoes off and why?!
"Flora and Fauna developed an amazing and tasty menu for our theme. Solvang Bakery made a gorgeous and tasty cake. Eden Floral SLO made beautiful arrangements, executing exactly what I had in mind. Manuel Barba from Music Abound played great music. Alexandra Wallace captured photos that take me back to the emotions I felt in those very moments. Central Coast Tent and Party provided the lovely furnishings. Jen at Bluebird Salon styled my make-up and hair. Lastly, the owners of Casa Contenta rented to us the most amazing house to host our family that week, and it was also the location of the rehearsal dinner and wedding."
What advice would you give to other brides planning their wedding?
"A good wedding planner is worth the money! It's important to hire a professional to help ensure the details work well together... Janet Tacy from Sandcastle Celebrations was amazing. My work became more demanding while I was planning the wedding. She stayed on top of all the details for me and referred several of the vendors that I chose. I initially had concerns about pulling off a destination wedding (we live in Northern Virginia/ Washington, DC.), but those concerns went away as she took over planning."
"Also, be sure to communicate which details are important to you to your vendors. Most importantly, plan the wedding around what you and your fiance(e) want - don't plan an event for other people, this is *your* day! Last, relax and enjoy yourself. Relish in the unexpected moments you didn't plan for! The wedding planner will take the wheel to mitigate anything that pops-up."
What details about your wedding were you most excited about?
"The personal touches for the wedding made it more sentimental. I couldn't find a cake topper that I really liked, so my best friend's fiancee picked up supplies from Michael's and painted two sugar skulls just a day before the wedding! I also loved the flower arrangements - we actually hand-painted the turquoise mercury vessels. The food from Flora and Fauna was also amazing. Our DJ was also a great match, as our tastes in music are similar."