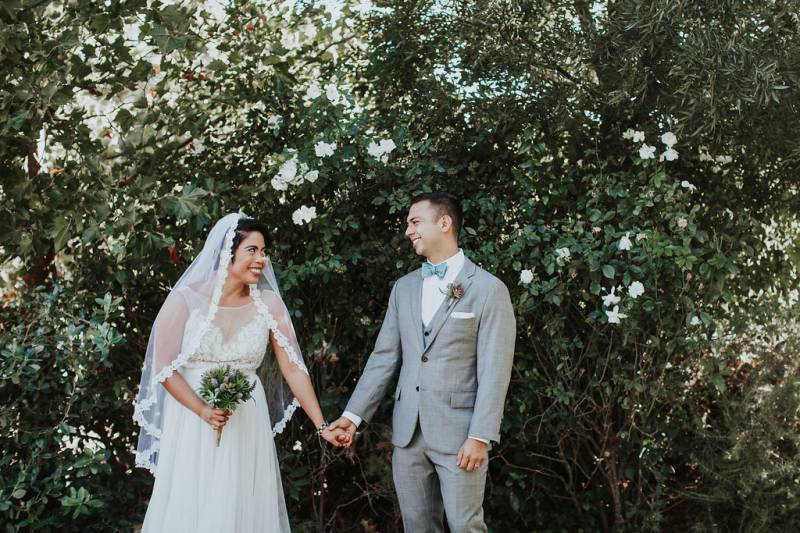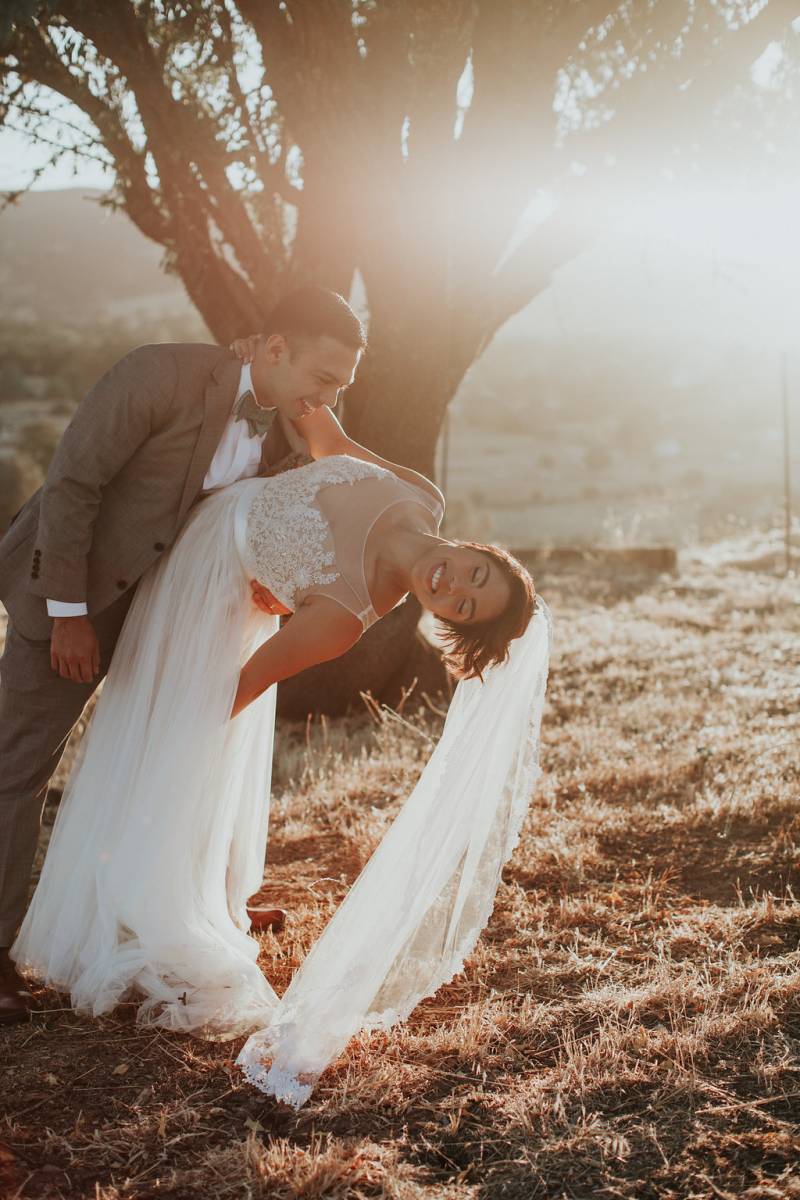 Tell Us Your Love Story!
"We met in 2007 in a math class at UC Santa Cruz. We transitioned from acquaintances to friends in 2009, but didn't start dating until a year later. After 7 months, he moved back down to LA, while I stayed in San Jose. We maintained a long distance relationship for 3 years through a lot of texting and Skype. After he moved up here, it was another year until he proposed. Although we picked the ring together, he surprised me by taking me to an Academy of Arts Night Life in San Francisco, and proposing in front of the fountain across the street. Then, of course, we got married nearly a decade after first meeting."
What Inspired Your Wedding Style or Theme?
"We were going for "Romantic Picnic": simple, intimate, and rustic."
"Danielle Roberts made me, my sisters, mom, and mother-in-law all look like the best versions of ourselves."
What Colors Did You Choose For Your Overall Theme?
"Since we wanted succulents as the decor and the favors, we picked succulent-inspired greens and purples."
"The Wedding Standard was particularly helpful to us, as an out of town couple. We chose the Central Coast because it is halfway between the bride's family in San Jose, and the groom's family in SoCal. It was a lot more meaningful to search for vendors and venues on The Wedding Standard than on bigger, national wedding sites, because of the focus on Central Coast wedding artists."
Tell Us About Your Most Memorable Moment From Your Wedding Day
"We both cried so much during the first look AND when we saw each other at opposite ends of the aisle. On the other side of the spectrum, we loved dancing the night away with family and friends!"
Which Other Wedding Artists Knocked Off Your Wedding Shoes and Why?
"We honestly appreciate ALL of our vendors. Alexandra Wallace captured both the important details and moments, and the overall vibe of the whole wedding. DJ Malik set the mood perfectly during the ceremony, cocktail hour, and reception. SusieCakes gave us the perfect, albeit nontraditional, chocolate peanut butter cake. Got You Cover'd provided both the basic rentals, as well as unique touches like wine barrel tables and Mason jar glasses. Last, but not least, Taffy Gonzalez--our wedding planner (All Traditions) --helped put all of the pieces together and really took the stress off of our shoulders on the day of."
"Flora and Fauna were the MVPs of the day; it was an extremely hot day, and they made sure that not only the wedding guests were comfortable and well fed, but they made sure the wedding vendors were, too!" - Alexandra Wallace (Photographer)
"Flora and Fauna came through with delicious and fresh food, as well as amazing service in setting up during the reception."
"Our #1 priority was to have good food. Considering that even the leftovers were amazing, and some of our guests are still talking about it (especially the potatoes), I think that we met our goal. Much more generally, we loved seeing our theme come together, from the venue itself, to the flowers, and the rentals (including Mason jar glasses)."
What Advice Would You Give To New Brides Planning Their Wedding?
"Start early, if possible. Especially if you have DIY elements, it is useful to spread out all of the work rather than rushing to get things done last minute. Also, many vendors and venues get booked a year prior to the date, so it's crucial to get those secured ASAP. Also, find a way to organize your ideas/materials that works for you. I used Google Drive to store proposals and contracts, budgets, checklists, and pictures. Other people prefer Pinterest, and some like physical binders. Do what works for you."