Unless you have been hiding under a rock, you have seen that gold is in and staying for awhile! The girls at Zest it Up have partnered up with Photographer Anya McInroy to create this fun DIY tutorial. From gold chargers and flatware to gold jewelry and dusting on cakes-the wedding industry definitely has a place for gold. After all-this celebration should really stand out on the "bling" factor don't you agree? When it comes to DIY and your wedding there are some tasks that you want to do, and other's you don't-TRUST US! Here is one idea that would be an adorable wedding favor or perfect for your ranch or barn wedding venue centerpieces. Gold is in and we are happy to jump on that train with these cute planters!
First, I watered down my Modge Podge just a bit-about a teaspoon of water to two tablespoons of Modge Podge-a little goes a long way! Then, I only brushed the adhesive on the area that I was going to work on immediately. Rather than covering a large area and risk having it dry-just brush as you go.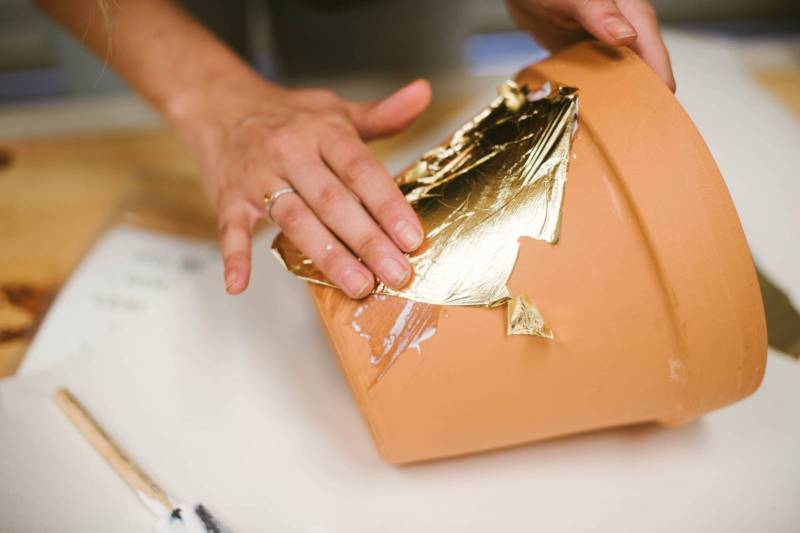 After you have applied a thin layer of Modge Podge grab a sheet of your gold foil and lay onto the Modge Podge, smoothing out the air pockets and ripples. No worries if your foil tears or wrinkles a bit, it will just add to the effect!
Next, keep repeating and making a pattern or texture on your pot. You could make shapes or even create and "ombre" of gold. I decided to keep mine pretty loose, it kind of resembles a globe! Let it sit and dry for about 20 minutes once done with the foil. Lastly add a "finishing" coat to the entire surface. I even brushed Modge Podge on the areas of terra cotta that didn't have gold because I wanted it to have that same glossy look as the rest of the pot once dry.
Time to plant and decorate!
I plan to keep my potted plants indoors, I would imagine with a solid coat of polyurethane or some type of good sealer you could place these pots outdoors with no issues!