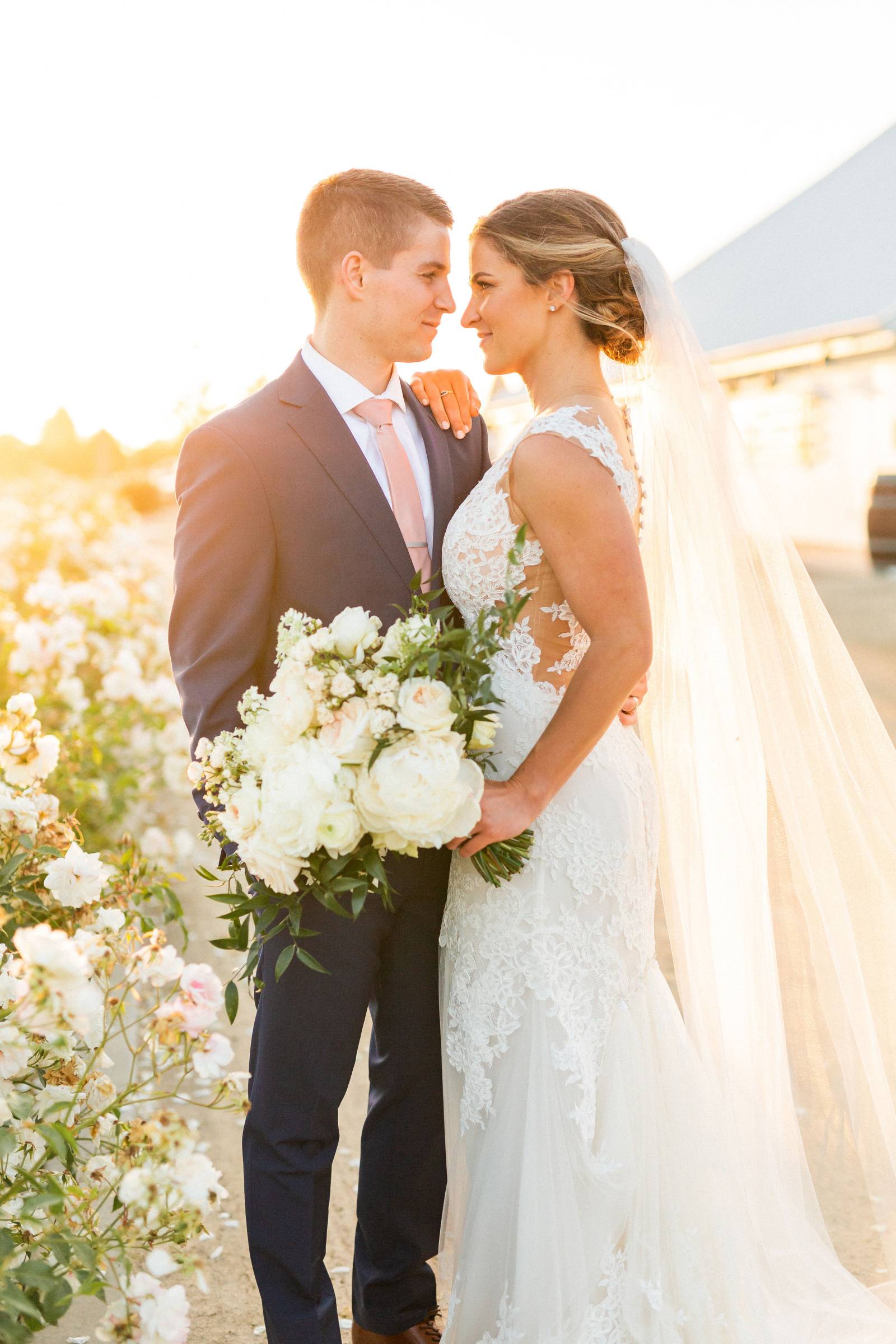 Edna Valley hosts some of the most beautiful weddings, with backdrops of vineyards, barns, and countryside magic. This wedding was no exception. The bride and groom chose San Luis Obispo Wedding Venue, The White Barn Edna Valley, knowing it would create the timeless elegance they were dreaming of. Nena Johansen with Vino Fiore Events curated a stunning design, bringing to life the couples desire of an open, light and natural, rustic elegance. A collection of TWS artists contributed in adding to the environment, from the catering, to the layout, and beyond. Keep scrolling to see all that Lauren Feddersen Photography captured.
Girl meets boy!

We first met at the end of our sophomore year at UCLA while working as athletic trainers. We instantly hit it off and shared a love of country music. Science, and sarcastic humor helped a great friendship grow into something more as we finished out our remaining time in Westwood. The next 5 years would bring more changes than either of us ever imagined - long distance for 3 years, a total of 4 cross-country moves and 2 (soon to be 3) more degrees to name a few. Through all this change, our bond remained the one constant and only grew stronger with each new twist. Simply put, life is better when we're together and neither of us would have it any other way.
Wedding Planning Inspiration
We are both more traditional people and value things that are more personal and intimate to us and our family, so we wanted to incorporate elements that truly reflected us. We also wanted to create a welcoming environment that brought our guests closer together. Our planner, Nena Johansen with Vino Fiore Events, took those ideas and made them a reality with an open, light and natural, rustic elegant theme that truly blew us away.
Color Palette
Navy and dusty rose with neutrals and greenery.
The Details
The moment of walking down the aisle. We didn't do a first look so there was a lot of build up for that moment of the barn doors opening, the procession song we picked playing live in the background and seeing each other for the first time as we met at the altar. Also the food. Ever since the tasting we were looking forward to having it again. So much so that we ended up keeping all protein options because we couldn't pick between the fish, chicken or beef - every bite was incredible.
Memorable Moments
Obviously, walking down the aisle as previously described. Our cake cutting did not go all that smoothly but we laughed and made our way through it, eventually just getting forkfuls straight from the side. You would think a veterinarian and future doctor would know how to use a cake knife, apparently not. Another one of our favorites is how everyone came together at the end of the night signing the last song, "Country Roads" by John Denver. A truly epic group huddle with all of our family and friends, we can still hear the echo of "take me homeeeeeee."